Eleven Most Enhanced Places, 2008
Landmarks' 13th annual Eleven Most Enhanced Awards ceremony took place on May 12, 2008 at the Ivory Theater at 7620 Michigan Avenue in Carondelet, where developers Pete Rothschild and Mike Allen graciously served as our hosts. Held each year during Historic Preservation Week at one of the award-winning sites, the festivities celebrate the accomplishments of special people who often defy great odds putting their money, time and creativity into ventures located throughout St. Louis city. To be considered for this year's citations, projects must have been completed between January 1, 2007 and May 1, 2008. The jury also looked for geographic balance, for different building types and dates of construction along with a wide range of ownership, financial collaboration and project complexity. The degree to which the property was once threatened was also an important consideration as was the quality of workmanship. Here are this year's award winners.
St. Boniface Church, designed by Thomas J. Brady, has anchored the south end of Carondelet since completion of the church in 1860. Its imposing twin towers came later, in 1868 and 1890. Unfortunately, the historic parish was one of seven closed by the Archdiocese in 2004. The closure of the parishes posed a massive preservation challenge, since a church is a difficult building type for adaptive reuse. Historic rehab tax credit guidelines require that a church's sanctuary space be preserved in reuse. Rothschild and Allen purchased the church and adjacent school in 2005. The creative developers envisioned the church becoming the Ivory Theatre, a venue for live performance, and turned over project management to Michael Schwartz. Architects at Klitzing Welsch Associates retained many original features, down to murals and the choir loft, while introducing new movable seating and backstage facilities. The first performance opened in September 2007. The $850,000 privately-financed renovation utilized state historic rehabilitation tax credits. Sitelines served as general contractor.
In recent years, Franklin School seemed a likely candidate for demolition by neglect. Located at 814 N. 19th Street, the building sat empty and vandalized in a no-man's-land between downtown and the north side that no developer wanted to touch. Opened in 1911 as an elementary school, the open-plan school building was designed by William B. Ittner in the Classical Revival style. Between 1934 and 1956, the school became the Booker T. Washington High School, a vocational high school for African-Americans designed to prepare students for immediate work in the city's many industries. After reverting to other uses, Franklin closed in 1995. On the heels of Wood's successful Majestic Lofts project one block west, developers Robert Wood and Pete Rothschild took a brave plunge and purchased the school for conversion to 75 one-bedroom affordable apartments for active adults 55 and older. LANDMARKS prepared the National Register of Historic Places nomination. Completed in summer 2007, the $19 million project was financed by Southwest Bank and state and federal historic rehab tax credits. Klitzing Welsch Associates served as architect and HBD Construction as general contractor.
| | |
| --- | --- |
| | |
| | |
Bothe & Ratermann designed the finely-detailed Classical Revival mansion at 4512 West Pine Boulevard in the Central West End. Built in 1895 for Margaret Sweringen, the home features abundant figural terra cotta, including an elaborate entrance surround topped by a pediment. In the 1950s, the home became a boarding house for single working women before finding later use as 17-bed nursing home. The terra cotta was covered in thick paint at the point when Landmarks prepared a National Register nomination for the West Pine-Laclede District. Still, in spite of heavy wear and tear, the original interior remained virtually intact when attorney Kurt Wolfgram purchased the home in 2005. Working with architect Jay Sparks, DM Construction and conservator Peter Wollenberg, Wolfgram spent nearly three years and $500,000 to restore the home and adapt it to use for professional offices. Kurt Wolfgram made the award-winning building available to LANDMARKS for our June 12 Board of Directors meeting.
| | |
| --- | --- |
| | |
| | |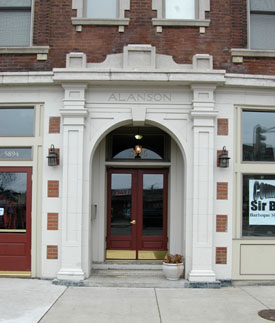 Built in 1908 and designed by Louis Baylor Pendleton, the Alanson Building at 5888 Delmar Boulevard might have this year's most complicated rehab financing structure. In 2002, the Skinker-DeBalivere Community Housing Corporation purchased the three-story commercial building, whose eight upper-floor apartments were uninhabitable and whose four commercial storefronts were less than appealing to the eye. Financing took four and one-half years to secure. Funds came from the Affordable Housing Commission, federal and state historic rehabilitation tax credits, the Federal low Income Housing Tax Credit, tax-exempt bonds approved by the city's Industrial Development Authority and a loan from the housing corporation itself. The $3.2 million project benefited from the expertise of Grice Group Architects and R.G. Ross Construction Company. The building includes eight attractive, spacious affordable apartments and four fully-rehabbed storefronts.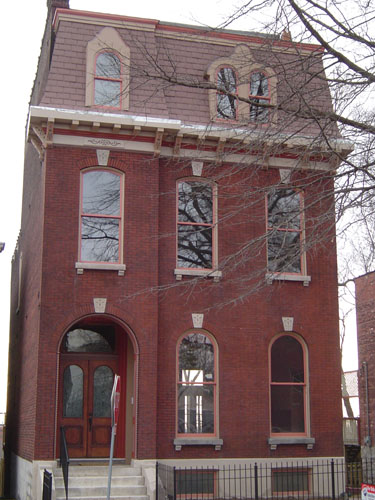 The small pocket of historic buildings centered around St. Agatha's Church south of the Anheuser-Busch brewery once had a dubious future amid brewery expansion. Through the leadership of Alderman Ken Ortmann, things have changed for the better in the last decade. Still, until very recently, people heading east on Utah Street met with the disconcerting sight of the elegant three-story mansard-roofed home at 3306 S. 9th Street boarded and crumbling. Built in 1876, the house ended up on the inventory of the city's Land Reutilization Authority in 1997. Developer and next-door neighbor Kraig Schnitzmeier took action in 2006, embarking upon a gorgeous painstaking reproduction of the home's original character. Kraig had all millwork replicated, save the few pieces that remained intact, and rebuilt the entire south bay of the front elevation, complete with new footings. Architect Paul Fendler designed the $440,000 rehabilitation project, financed by Truman Bank and state historic rehabilitation tax credits.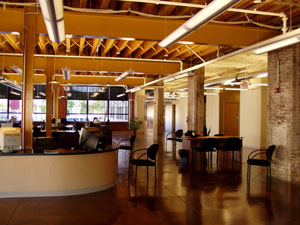 The two-story industrial building at 4245 Forest Park Boulevard was built in 1924 for the Measuregraph Company, manufacturers of a novel mechanism that simultaneously measured and priced dry goods yardage. Designed by Kennerly & Stiegemeyer and expanded in 1941, the building's straightforward brick exterior is marked by plentiful steel sash windows. Those windows provide excellent natural light for the current occupant, the Independence Center, which provides services and programs to adults with severe and persistent mental illnesses. The building stood vacant five years before developers RK Merlyn & Bruce Development partnered with the non-profit Independence Center so that the $9 million rehabilitation could benefit from state and federal historic rehabilitation tax credits. Independence Center and its Clubhouse Resale Shop moved to this location in August 2007. Southwest Bank provided financing and LANDMARKS prepared the National Register nomination. George Johannes served as project architect and R.G. Ross Construction Company was general contractor. Independence Center hosted LANDMARKS' April board meeting.
The Ethical Society incorporated a Self Culture Association in 1893, which took out a building permit for a new Hall at 1921 S. 9th Street in Soulard in February of 1895. In 1908, the building was purchased by the Sisters of the St. Lucas Slovak Evangelical Church who later sold it to the United Hungarian Societies (a benevolent organization) to be used as a "Home" or community center and clubhouse through the 1940s. Later came the name "Preservation Hall," infamous Permastone cladding and the long tenure of Youth, Education and Health in Soulard. Nancy, Aaron, and Neal Novack and Lindsay Barth recently completed a dramatic $2 million rehabilitation. The building now is reborn as Soulard Preservation Hall, a banquet, meeting and entertainment hall. Financing came from Heartland Bank as well as state historic rehabilitation tax credits. Aaron Novack served as architect and J.E. Novack Construction Company was general contractor.
| | |
| --- | --- |
| | |
| | |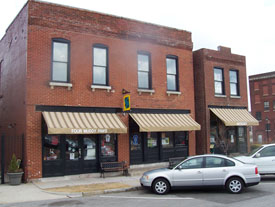 After languishing as one of the final frontiers of the Lafayette Square neighborhood, the commercial district along Park Avenue has blossomed with shops, restaurants and residential units. One of the commercial buildings at 1709-13 Park Avenue is best known in recent years as the home of Park Chop Suey. Years of deferred maintenance, boarded window openings and accumulating layers of paint marred the vernacular charm of the buildings built in 1885. Developers 1711 Park LLC purchased the buildings in April 2006, and soon after began rehabilitation costing $950,000. Plans by architect Jeff Brambila and work by contractor Tim Delahanty have reversed the alterations, creating two commercial spaces (one of which is home to pet paradise Four Muddy Paws) under second-floor apartments.
The St. Louis and Suburban Railway, an electric passenger route that provided the first streetcar service to St. Louis County, built the three-building DeHodiamont Car House complex at 1019 N. Skinker Boulevard between 1892 and 1936. The storage and repair facility serviced electric rail cars through 1936, when it switched to serving buses. In 1954, the facility closed and the building eventually housed Bardenheier's Wines and other uses. Restoration St. Louis purchased the aging buildings in 2005 for a $22 million rehabilitation project called Loop Lofts that created loft-style residential spaces-leased by Washington University for student housing-and a restaurant space within complex's spacious industrial interiors. HKW Architects designed the project, and BSI Constructors was general contractor with Checkmate Design as construction manager. LANDMARKS prepared the National Register nomination. Financing came from National City Bank, the National City Community Development Corporation and both state and federal rehabilitation tax credits.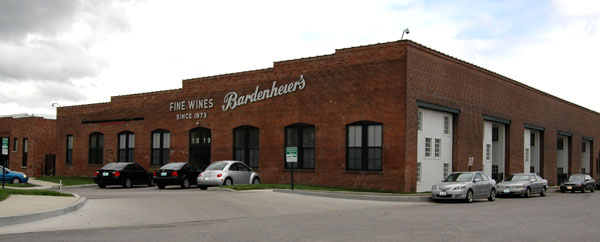 The seven elegant houses of Maryland Plaza in the Central West End created a distinguished group marked by complementary styles and a continuity of height, setback, materials and date of construction (all were built in 1905 and 1906). The homes' architects were all notables: Mariner & LaBeaume, Albert B. Groves, E.P. Maule and William Wischmeyer. In the late 1970s, the Maryland Plaza Redevelopment Corporation implemented a plan for the block that included conversion of the houses to retail and office space; the effort was unsuccessful. In 2006, Plaza Investment Group acquired the homes and designed a rehabilitation program restoring the elegant architecture, adapting the buildings to residential condominiums and constructing new garages with second-floor residential space along the alley. The $12 million project involved architects Ralph Wafer, Klitzing Welsch Associates and Field Office; contractors E.M. Harris Company, J.D. McClain, Plaza Investment Group and Red Brick Management; and financing from St. John's Bank & Trust Company, tax increment financing and state and federal historic rehabilitation tax credits. The project was completed this spring.
| | |
| --- | --- |
| | |
| | |
Ludwig Lofts combines two of the remaining "Music Row" buildings: the Balmer & Weber Music House (later Ludwig-Aeolian) at 1004 Olive Street, designed by Henry William Kirchner and built in 1905; and the Thiebes-Stierlin Music Company Building, designed by Theodore Link and also built in 1905. A 1928 remodeling after a fire gave the Balmer & Weber building its distinctive marble-faced storefront, designed by Maritz & Young. Through the work of LANDMARKS, both are listed on the National Register. After years of vacancy, the slender buildings were recently purchased by LoftWorks, which joined the two buildings to create retail, office and residential uses. Most spectacular was the removal of the paint on the Balmer & Weber building and full restoration of its masonry, terra cotta and stone front. Trivers Associates was the architect of the $8.9 million rehabilitation project, which was completed March 1. BSI Contractors worked as general contractor while financing came from Enterprise Bank, National City Community Development Corporation, state and federal historic rehabilitation tax credits and New Market Tax Credits.