About Landmarks Association of St. Louis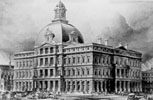 Old Post Office
St. Louis, bequeathed with a wealth of historically and architecturally significant buildings, owes the conservation and adaptive reuse of much of that inheritance to Landmarks Association of St. Louis, Inc. Organized in 1958 and incorporated as a non-profit in 1959, Landmarks is the primary advocate for the region's built environment. Important victories from our early years include the Bissell Mansion and Red Water Tower in Hyde Park, the Chatillon-DeMenil House in Benton Park along with the Wainwright Building and Old Post Office in downtown. But in spite of many accomplishments, preservation was seldom included in the planning process. In the early 1970s, Landmarks embarked on an ambitious citywide survey to identify important sites and potential historic districts.
The survey pace accelerated in the late 1970s when the federal government passed legislation offering tax credits for renovating properties listed on the National Register of Historic Places. By the mid 1980s St. Louis led the country in historic tax credit reinvestment, thanks in large part to Landmarks' nominations to the Register. Landmarks also played a key role in framing Missouri's historic rehab tax credit program in 1997. High-profile rescues resulting from this legislation include the Drury Plaza Hotel (encompassing the partly demolished Fur Exchange), the Westin Hotel (an adaptive reuse of Cupples Station) and the Sheraton St. Louis City Center, ingeniously inserted in the former Edison Brothers Warehouse. Without historic tax credits, these three sites and countless more including the Arcade Building would be surface parking lots.
Each May Landmarks presents a ceremony honoring St. Louis' 11 Most Enhanced Sites. Inaugurated in 1996, the list runs the gamut from those privately financed to those requiring every possible public resource. Projects recognized in 2007 (with costs ranging from $500,000 to $36 million) contributed $129,400,000 to the local economy. The total figure since we started keeping close tabs in 1998 is an astonishing $1.5 billion.
Landmarks' National Register nominations also provide essential background for publications including the organization's bi-monthly newsletter and a series of guidebooks. The most popular, St. Louis: Landmarks & Historic Districts first published in 1988, was revised in a greatly expanded version in 2002. That same year Landmarks released the third in its series of multilingual cultural tourism pieces based on public transit. Designed to encourage international tourism and to introduce recent immigrants to easily reached attractions, the full-color brochures (Art on Wheels, Art on Rails) were funded in part by the Regional Arts Commission, the Whitaker Foundation and the Gateway Foundation.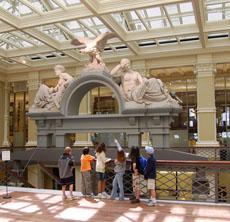 Students participating in the WABMO program explore Daniel Chester French's sculpture, Peace and Vigilance, in the Old Post Office building.
In 1991, Landmarks created "What Are Buildings Made Of?" (WABMO) to introduce the built environment to tomorrow's leaders. An acclaimed heritage education program supported since its inception by the Regional Arts Commission, the original WABMO sessions were directed to students in the 4th through 6th grades. Since then the program has grown to include versions for high school and college students, for at-risk youth and for senior citizens. A WABMO for families and Architecture Weekends for adults will be offered starting in 2008.
By 2006, the Landmark Association recognized the need to establish an architectural center for metropolitan St. Louis to advance its core mission to preserve, enhance and promote St. Louis' architectural heritage and to ecourage sound planning and good contemporary design. With an eye toward its 50th anniversary celebration in 2009, Landmarks embarked on an ambitious capital campaign, raising over $300,000 for the center. By late 2008, Architecture St. Louis was open to the public, quickly becoming an educational center hosting programs for children and adults and a gallery space for exhibits on contemporary architecture, architects and historic preservation.
Today, Landmarks draws its strength from a broad-based membership. The more than 1300 regional dues-paying citizens include architects, attorneys, developers, consultants, historians, neighborhood leaders, bankers and community volunteers who contribute expertise and participate as advocates. Over the years they have supported Landmarks, even in the face of controversy. That is probably the legacy envisioned in 1962 by Roger Montgomery, one of the founders, who wrote: "We must encourage continued use and creative adaptation of existing buildings and districts. But it is a mistake to insist that there must be an economic income returned by all buildings. Preservation is often self-justifying on purely cultural terms."