Eleven Most Enhanced Places, 2006
LANDMARKS ELEVENTH ANNUAL ENHANCED AWARDS CEREMONY took place on May 18, 2006 at the Moulin Events & Meetings' space on the 2nd floor of the former Joseph Schnaider Brewery Malt House, 2017 Chouteau. Held each year at one of the award-winning sites, our 11 Most Enhanced ceremony honors some very special people—people who have elected to put their money, time and creativity into often-risky ventures. To be considered for this year's citations, a project must have been completed between January 1, 2005 and May 10, 2006. The jury also looked for geographical balance, for different building types and dates of construction along with a wide range of ownership, financial collaboration and project complexity. The degree to which the property was once threatened was also an important consideration. Here's the list:

When Joseph Schnaider died in 1881, he left his wife Elizabeth a prosperous brewery known nationally for its lavish open-air beer garden. Complete with three music pavilions, numerous shade trees, flowers and grottos, the brilliantly lit retreat located on Mississippi at Hickory near Lafayette Park attracted thousands of people on summer evenings. By 1885, his widow had added an icehouse, machine house, storage house, bottling house and a summer theater to the growing brewery. But only one building from the entire complex, the Centennial Malt House designed in 1876 by Fred Wolf of Chicago and St. Louisan Louis Kledus, would survive.
Research for a National Register nomination unearthed an astonishing amount of material about Schnaider's Malt House. The Whipple insurance map of 1877 depicted the ground plan and a perspective; Herr Schnaider's lengthy memorial program reprinted an article "Das neue Malzhaus der Chouteau Avenue Brauerei" from the February 3, 1877 edition of the Westlichen Post.
Merged with the St. Louis Brewing Association in 1889, Schnaider's brewery was shut down within a decade. The Chouteau Avenue Crystal Ice & Storage Plant occupied several buildings; other property including the garden was razed for the enormous International Shoe factory. Eventually, the malt house was relegated to use by a truck parts company. Things looked pretty grim when Wendy and Paul Hamilton, owners of the nearby 1111 Mississippi restaurant, purchased the property in April 2005. Faced with a tight timetable, Paul and his restaurant staff spent many extra hours working alongside an army of contractors led by Spiegelglass Construction Co. Office space under construction on the first floor is already leased; the rooftop bar and bistro Vin de Set should open this June. National City Bank plus federal and state historic tax credits financed the $4 million mixed-use project designed by Tom Cohen.
By the 1990s, demolition had isolated two small buildings at the western edge of a shrinking downtown. Although Landmarks received several inquiries from potential developers, no attempts were made to place the properties on the National Register until 2003 when we were contacted by Dennis Flatness and Larry Wilson. The more elaborate Alexander Building from 1906 was architecturally significant. Prospects for listing the other looked pretty bleak, especially after an initial comment from the all-powerful reviewer at the State office of Historic Preservation: "I want to like this building, but…."
Additional research did the trick. Constructed in 1904 as investment property, the unassuming five-story building at 1113 Locust was the St. Louis home office and sales room for Spool Cotton—one of the national giants in the distribution of cotton thread. Thread could be a profitable career path. One of Spool Cotton's local agents, Oscar Lawrence Halsey (image), parlayed his income from six years in the thread business into a Packard dealership and a lavish apartment in the Central West End.
Both buildings were listed on the National Register in 2004. In early 2005, Paric Corporation began work on a $3.2 million rehab. Upper floors of each building were converted into for-sale lofts: luxury residential in the Alexander Building at 1121 Locust and office in the Spool Thread Building at 1113 Locust. Retailers specializing in home furnishings bought the first floor spaces. Financing came from Enterprise Bank, state historic and neighborhood preservation tax credits plus tax abatement.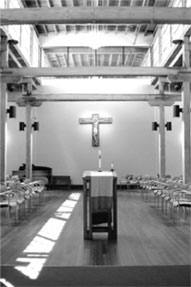 Enrollment stood at 55 students in 1981 when Aquinas Institute of Theology moved from Chicago to the law school building at Saint Louis University. Twenty years later this graduate program run by the Dominican order had grown to almost 300—much too large for their space. Needing to remain close to Saint Louis University for cross-registration and library facilities, Aquinas looked first at Berea Presbyterian Church but then settled on the former Standard Adding Machine Company Building at Spring and Forest Park Parkway. Built in 1903, the factory was graced by a form-follows-function clerestory window bringing light into the center of the space. That clerestory would now provide a perfect focal point for a radical new use.
Not-for-profit Aquinas launched a capital campaign to help finance the $5.5 million adaptive reuse undertaken in a lease-to-purchase collaboration with a trio of for-profit developers. Two different architectural firms were hired to prepare plans: Klitzing Welsch Associates were in charge of exterior renovation while Chiodini Associates worked with the institute to design functional but dramatic interiors exploiting light from the clerestory. In addition to a stunning chapel, space has been set aside for teaching, study and research. Paric Corporation was the contractor for the project.
A mansard-roofed police station dating to about 1870 was a prominent feature of Lafayette Park—a lushly developed and highly popular public square ornamenting an elite Victorian neighborhood. But the devastating tornado of 1896 convinced many residents to move west. By the mid 20th century, the park and the neighborhood were in decline; the city's 1947 Comprehensive Plan actually proposed clearance and new development. Although pioneering architect John Albury Bryan bought a needy townhouse on Benton Place, many others were converted to boarding houses or simply abandoned. At some point, the old police station was painted stark white.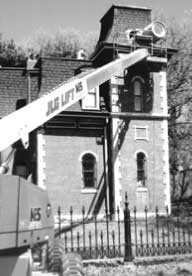 Historic district legislation and the formation in the 1970s of the Lafayette Square Restoration Committee (LSRC) came along just in time. A generation later, LSRC (well financed by one of the oldest and most successful house tours in the region) decided to spend up to $50,000 of its own money on the former police station—now the city-owned Park House. After a Whitaker Foundation grant brought another $25,000 to the project, Alderman Lewis Reed pledged public funds to match what the enterprising neighborhood group had raised. Historic photos guided the careful restoration work by R. G. Ross Construction. All told, the new slate roof, copper gutters and coping, porthole windows, decorative cresting and window trim cost close to $175,000.
In November of 2003, Matt Ghio (one of our Board members) attended a School Board meeting hoping to testify. Instead, he discovered that the School Board (having been assured by its staff that mothballed Theresa School was not historic) had already voted in closed session to sell it to a developer. The proposed use? Surface parking to support a new Walgreens on South Grand. Quickly alerted to the fact that William B. Ittner was the architect, the press responded with fabulous coverage. Before long we had an email from Bob Archibald, a concerned member of the School Board and a member of Landmarks. Next, we met with several members of the Board and its main consultant to review the significance of all the buildings for sale. The result was a far-reaching change in policy: historic buildings would only be sold to developers who promised to renovate them according to preservation guidelines. Soon, the original sales contract for Theresa was rescinded and a preservation developer selected.
Hurriedly Landmarks prepared a National Register nomination for the school, while Amy and Amrit Gill met with Cohen Hilberry Architects to create an adaptive reuse scheme that met criteria for historic rehab tax credits. (Since Ittner's wide corridors had to be retained, only 35 loft apartments could be inserted in the entire building at 1517 South Theresa.) Work got underway in May of 2004. BSI Contractors completed the $8 million project in time for a grand opening of the Theresa School Lofts last September. Financing came from National City Bank along with state and federal historic rehab tax credits.

Although prestigious architects were often commissioned to design high-style houses for the wealthy, carpenter/contractors were usually responsible for St. Louis' beloved red brick neighborhoods. Many of those builders emigrated from Germany including carpenter Frederick Scheiffelin, who had arrived in the 1850s and settled in Carondelet. After the Civil War he bought a lot near Gravois and began construction of a small-scale, two-family cottage at 2238-40 Jules Street for his wife and two children. Amazingly, the building (converted to single-family use) would remain in the family until 1984. A photo from that year, included in our National Register nomination as a fine example of urban vernacular classicism, captured the house in almost original condition. But all too soon came a period of decline. In 1997, the City's Land Reutilization Authority acquired the property for back taxes. Although the building continued to deteriorate, the Cultural Resource office denied requests for demolition. Finally, in 2005, Kevin King purchased the property and began working with architect Laura Johnson on rehab plans.
Recommendations from architects reviewing state historic tax credit projects were incorporated and walls were re-laid with two courses of hand-made bricks. Financed by Central West End Bank and state historic rehab tax credits, the $190,000 gut renovation was built by contractor Joseph Morris.
Constructed in 1919 for the Angela Realty Company at an estimated cost of $30,000, the small-scale commercial building at Laurel and Delmar opened the following year with two major tenants: Hamilton Bank on one corner and Brown Business College on the other. Storefronts in between were leased to neighborhood-based enterprises including a dry cleaner, a dressmaker, a hair salon and a jeweler. Design of the colorful stucco, red brick and green clay tile composition came from prolific architect Preston J. Bradshaw, better known for his large hotels including the Coronado and the Chase.
Although the bank and business college would lease space for the next twenty years, the street was not destined for continuing prosperity. By the time Landmarks began photography for the Skinker de Baliviere historic district in 1983, the vacant building had been substantially altered. Conditions in late 2004 had worsened dramatically when first-time rehabber John Mathews of Oleander Properties took a plunge. Matthews chose architect Dave Mastin from the St. Louis Alliance to draw plans: it was a logical choice. The firm's award-winning adaptive reuse of a former A & P grocery just a few blocks west played a key part in the slow but steady resurgence underway on Delmar. The $1.5 million Hamilton Bank Building project was built by R. G. Ross Construction and financed by The Private Bank with the assistance of state and federal historic tax credits.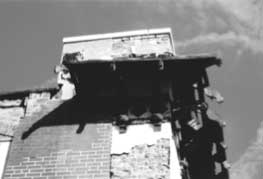 The earliest portion of what is now the Centene Center for the Arts at 3547 Olive was designed for Jacob Mahler's dance academy in 1889. In 1907, the academy moved to a spacious new building (site of Landmarks' 2006 annual meeting) in the Central West End. The Knights of Columbus bought the old dance academy and commissioned Baker & Knell to design a multi-purpose expansion (estimated to cost $87,000) behind a gleaming new terra cotta facade.
Although the Great Depression had relatively little effect on Midtown, post-War clearance of nearby Mill Creek Valley helped precipitate a steady erosion. In 1952, the Knights sold the building to the International Association of Machinists which opened a bar and lounge and subleased office space to other construction unions until 1971. After four years of vacancy, the Medinah Order of the Shriners—an African-American branch of the Masons—purchased the building.
In 1991, Grand Center acquired it for an arts incubator. Fourteen years later Owen Development, Grand Center and the Arts & Education Council (A & E) secured a workable partnership: the development company would rehab and own the building; Arts & Education would act as the master tenant responsible for attracting other arts organizations. James Weidman, President of A & E, graciously opened the doors for one of our work-in-progress tours during Preservation Week 2005. Tom Cohen's creative architectural solutions were completed by H.B.D. Contracting in December 2005 at a cost of $6.8 million. Complex financing included a TIF, a gap construction loan from Pulaski Bank, New Market tax credits, state and federal historic tax credits plus a lead gift from the Centene Corporation. Fifteen arts and education organizations now call the building home.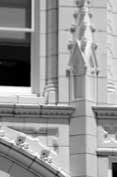 Although land just south of Tower Grove Park was opened for residential development in the late 1880s, construction lagged until after the World's Fair. Connecticut Realty Company, anxious owner of the vacant lots, resorted to conspicuous newspaper ads and professional auctioneers to promote sales. It worked; construction boomed. In September of 1912, a building permit was issued for a single-family dwelling at 3710 South Utah Place estimated to cost $9,500. Designed by a relatively obscure architect named H. J. Burgdorf for owner Henry Tiemeyer, the variegated red brick house boasted a highly accomplished Arts & Crafts interior. Somehow, that interior remained reasonably intact through remodeling efforts by eight later owners and a period of vacancy from 1994 until 2005.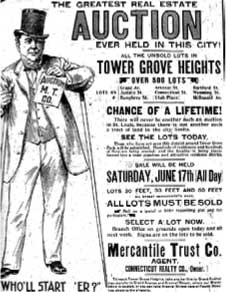 Meanwhile, a successful National Register Nomination for the Tower Grove Heights District had created the potential for state historic rehab tax credits. In early 2005, developer Diane Hurwitz bought the house; by summer, Richard and Claudia Seifert had become financial partners. By the time the project was complete in April of this year, the Seiferts had bought out Diane and decided to move from Hazelwood to Utah Place. The privately financed $300,000 renovation project directed by Diane and John Noecker of City Kitchens & Baths included finishing space in the 3rd floor and replacing all the plumbing and electrical systems. Master craftsman Paul Spencer is responsible for restoring the splendid original woodwork and windows. The owners have applied for state historic tax credits and city tax abatement.
| | |
| --- | --- |
| | |
| | |
In 1999, bachelor architect John Burse bought a dilapidated Second Empire townhouse at 1408 Hebert Street in Old North Saint Louis. Along with abundant professional skills, he brought youthful optimism, a shoestring budget and an estimated renovation timetable of about six months. The project would actually take over six years. Scaffolding and rebuilding the front elevation was the first priority; replacing the slate mansard, metal cornice and wood dormers came next. A passerby in May of 2001 discovered John hard at work scraping paint and trying to figure out exactly what to do with the front parlor. Three years later that perfect room would be where John proposed to his wife.
Getting married to Janie altered many earlier concepts about interior space including the need for a master bedroom suite on the 3rd floor. It also brought a soul mate and investor. Throughout the often-tedious work, the Burses benefited from the time and considerable talent of friends and neighbors. They also credit a long list of accomplished craftsmen willing to try creative new solutions to old problems. Refinancing a 30-year mortgage as work proceeded helped supplement the owners' cash investments. A small portion of the total project cost approaching $250,000 will probably be reimbursed from Missouri's historic tax credit program.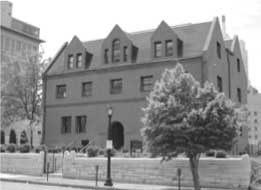 In 1886, John Lionberger commissioned Boston's Henry Hobson Richardson to design a house at 3630 Delmar (now Grandel Square) as a wedding present for his son Isaac H. Lionberger and new daughter-in-law Louise Shepley. Although Richardson died later that year, his comments appear on the working drawing for a house tow bays wide, so the house can justifiably be counted among the great architect's last projects. In 1894, Isaac hired Richardson's successor firm (Shepley, Rutan & Coolidge) to add a third bay to accommodate a large library and more bedrooms for his growing family. Twelve years later the family sold the house to Norfolk Realty for $30,000 and moved to Westmoreland Place. Norfolk held title for over 10 years before accepting an offer from a purchaser who promptly resold the property for $23,000 to the Dean of Benton College of Law.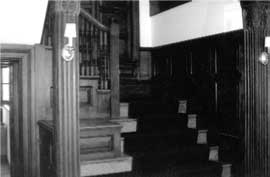 In 1945, Benton College sold to the Cooks & Pastry Cooks Local #26. Although the surrounding residential neighborhood gradually vanished, the two long-term 20th century owners of the Lionberger House proved to be good stewards in spite of some unfortunate but reversible alterations. The union finally sold to a developer in 1999, but no one came forward with a financially feasible use. By the time Rodemyer Christel, Inc. (real estate sales and property management) purchased the house in late 2003, it had been vacant for over five years. Imaginative adaptive reuse plans designed by Heine & Croghan combined corporate office space on the lower level, first and second floors, with a spacious apartment on the third. Great care was taken to restore as much historic detail as possible. The painstaking $1.3 million rehab built by J. P. McLain was achieved with the assistance of state and federal historic tax credits, a small facade grant from the City of St. Louis and a sizable loan from Southwest Bank.