Eleven Most Enhanced Places, 2007
Landmarks' 12th annual Eleven Most Enhanced Awards ceremony took place on May 14, 2007 at the Lucas School House Music Hall at 1220 Allen in Soulard. Held each year during Historic Preservation Week at one of the award-winning sites, the festivities honored some very special people—people who elected to put their money, time and creativity into often-risky ventures located throughout St. Louis city. To be considered for this year's citations, projects must have been completed between January 1, 2006 and May 1, 2007. The jury also looked for geographic balance, for different building types and dates of construction along with a wide range of ownership, financial collaboration and project complexity. The degree to which the property was once threatened was also an important consideration as was the quality of workmanship.
Dan and Mia Jameson, our generous hosts for the award ceremony, acquired the shuttered church, adjoining school and neighboring parsonage in 2004 and embarked on a phased adaptive reuse project. Anchored by the former St. Paul's Friedens Evangelical Church, the complex dates back to 1886 when the German-speaking congregation established a faltering presence in Soulard. In 1913, after years of financial struggle, St. Paul's merged with Jesus Evangelical Church (still standing at 1115 Victor) and then sold the Allen Street properties for $14,500 to the rapidly expanding St. Lucas Slovak Lutheran congregation. Founded in 1905 by 36 recent immigrant families, the congregation opened a Sunday school in 1921 and a parochial school in 1928. Monthly English-language services were not added until 1930, evidence of a deeply felt and sustained ethnic identity. But membership dwindled during WWII as members began to move out of the central city. The school closed in 1947; by 1955, the congregation had selected a site at Morganford and Blow for it present facilities; the property on Allen was then sold for $45,000 to another denomination which also left Soulard. Following years of deterioration, the old school was recently treated to a $1.9 million historic rehab tax credit project designed by Soulard-based architect Phil Durham. Reopened in June 2006 as the Lucas School House Music Hall, it quickly became a popular new concert, banquet and meeting venue.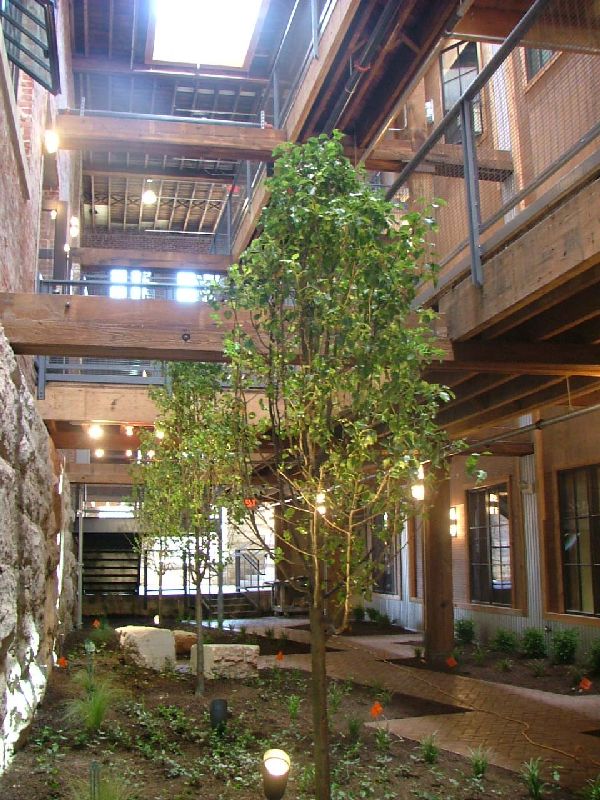 Several of those honored in 2007 had previously won Enhanced Awards; one repeat winner was Bob Wood whose earlier enhanced-award-winning-projects were fairly small-scale. This one is not! It took Bob over six years to assemble the cluster of buildings and acquire financing for the Majestic Stove Lofts. Built between 1895 and 1913 from plans by Barnett, Haynes & Barnett and J. Hal Lynch, the ramshackle three-building complex located at Delmar and Lucas has been transformed by plans from the Johannes/Cohen Collaborative into 120 mixed-income apartments.
Essential historic features were retained and restored while a dramatic new atrium (see above) features balconies overlooking a sunken courtyard. The $30 million historic rehab tax credit project built by HBD contractors received financing from Fannie Mae and U.S. Bank.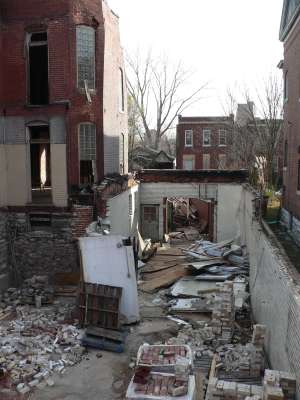 Claire and Tim Vogt of Millennium Restoration & Development had also won earlier enhanced awards, but this year's project is without doubt their most complicated. The Salena Dairy at 2919-21 Salena is composed of an inspired reworking of neglected residential and commercial buildings. Constructed between 1884 and 1920, by 1926 the properties had morphed into the first in a series of dairies. Vacant starting in 1981, the deteriorating cluster had been held for years by an owner reluctant to work with Alderman Ken Ortmann or the Benton Park Housing Corporation. Finally, the property passed to the city and Millennium was persuaded to take on what was clearly a pre-rehab disaster. Collaborating with GMG Design, The Citta Group Architects and Benton Park architect Marion Smith to come up with a plan that could be approved for historic tax credits, Millennium began the fifteen-month demolition and rehabilitation. One delightful surprise was the discovery of a tile storefront identifying South Side Consumers Dairy. Work on that building along with the combined farmhouse and carriage house came to $1.5 million.
| | |
| --- | --- |
| Salena Dairy, before. Photo courtesy Millennium. | |
In March of 1999, Landmarks Association and the St. Louis Post-Dispatch organized a community-based charrette for a troubled three-block stretch of Olive centered at Taylor. No one paid much attention to three commercial buildings on Olive near Walton. Designed in 1916 and 1923 by Norman B. Howard and Hellmuth & Hellmuth for an auto repair company, the non-descript front elevations were boarded. The rear elevations (see below, right) were crumbling. But in 2005, hidden potential including a striking bow-trussed ceiling and clerestory was discovered by Connie and John McPheeters who hired architects Hellmuth & Bicknese to help envision an elegant retail outlet for the family-owned nursery located in Pike County. Staffing the privately financed Bowood Farms store at 4621 Olive in the Central West End was also a family enterprise. Son Alex McPheeters served as construction manager for the rehab project; daughter Lizzy runs the office, orders stock and hires employees. In keeping with a store featuring plants and trees plus an extensive gardening library, garden gifts and a landscape designer, the $500,000 renovation incorporated green design with radiant heated floors and a heat-reflective roof.
| | |
| --- | --- |
| | |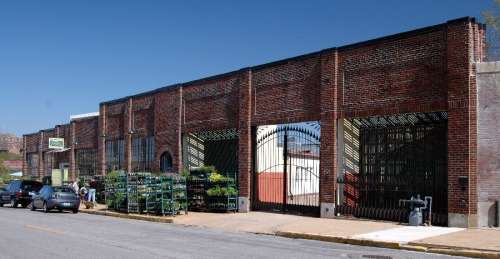 The North Market Place Apartments, one of two stunning community-based projects to receive an award, is a 32-unit affordable housing project scattered in what were nine seriously distressed (see above) National Register-listed historic buildings constructed between 1870 and 1910. The current ownership, a collaborative of three nonprofit organizations called CONECT, put together a virtual maze of thirteen different funding sources to create an $8.2 million venture designed by Kennedy Associates Inc. (KAI) and built by the E.M. Harris Construction Company. Special kudos are due the Old North St. Louis Restoration Group and the Regional Housing & Community Development Alliance for this valiant collaboration.
| | |
| --- | --- |
| | |
| | |
| --- | --- |
| | |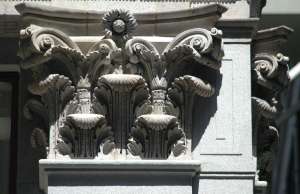 Weary of drawing adaptive reuse plans for faint-of-heart developers, Lawrence Group architects decided to take a leap and just buy the twenty-story office tower at 314 N. Broadway. Initially occupied by Boatmen's Bank but known today as the Marquette Building, the 1913 skyscraper designed by Eames & Young was vacant except for the YMCA and the venerable Broadway Shoe Repair Shop. But historic craftsmanship included an unusually fine stone and terra cotta exterior along with a luxurious marble-encased lobby.
Building on that quality, The Lawrence Group decided to test the high-end residential market downtown and create 80 condos along with 36 fully finished apartments. The $35 million adaptive reuse project managed by Alberici Constructors came in at a robust $250 per square foot. The complicated funding package for the Marquette included National Citybank, Great Southern Bank, historic rehab tax credits, Brownfield tax credits and Tax Increment Financing.
Hamilton Brown Shoe Company's Sunlight Plant designed in 1899 by Henry Roach with a large addition from 1906 by Isaac Taylor is best known for a more recent occupant—The Welsh Baby Carriage Company. The Soulard factory is identified by the massive smokestack once needed for the oil-fired heating system as well as a tragic 1983 collapse of the west wall that killed a passing motorist. After years of vacancy, work got underway for an adaptive reuse project featuring 132 one and two-bedroom apartments plus a handsome new restaurant named Franco. Today the old smokestack is the beacon for the Soulard Market Apartments designed by Klitzing Welsch Associates and built by E. M. Harris for a partnership headed by Rick Yackey and Bill Bruce. In addition to state and federal historic rehab tax credits, the $32 million Soulard Market Apartments project received Brownfield tax credits and tax increment financing.
| | |
| --- | --- |
| Soulard Market Apartments photo by Paul Sauer. | Defenestration of an unwanted mannequin during rehab. |

In 2002, the DeSales Community Housing Corporation hired Heine & Croghan Architects to study the derelict 2800 block of Russell and create a model infill project. To bring that vision to reality, DeSales had to acquire, then tear down a gas station and remediate the environmental problems. It also acquired other city-owned properties including an expendable ranch house from the 1960s and the former George and Emma Denison House—a splendid building from 1880 divided into an eight-room boarding house. DeSales sold the house to Millennium Restoration & Development in order to focus on the new construction component. The resulting streetscape combines two new single-family houses, a pair of new two-family houses and Millennium's $500,000 restoration of the Denison House from plans by Killeen Studio Architects. To build the $1.9 million new construction designed by Heine & Croghan, DeSales retained C. F. Vatterott Construction. In addition to tax abatement and historic rehab tax credits, Russell Place was financed through the National City Bank Community Development Corporation.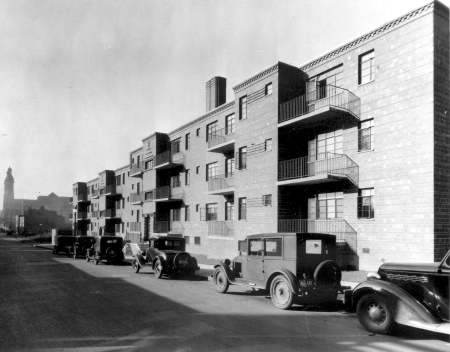 The Neighborhood Gardens Apartments (located between Biddle and O'Fallon, 7th and 8th Streets) were completed in 1935 from plans by the talented St. Louis firm of Hoener, Baum & Froese. Nationally significant historically as well as architecturally, the 252-unit complex was listed on the National Register in 1986. But within a few years it was vacant, soon to be acquired by the city's Land Reutilization Authority for back taxes. Since then any number of developers took a look—and then took a pass.
After languishing for more than a decade on LANDMARKS' Most Endangered list, Neighborhood Gardens was acquired for $35,000 by James Dalton, president of the Spanish Lake Development partnership. Finding a bank to make a loan took Dalton all the way to Clearwater, Florida and the MMA Financial Company. Val Grewe designed the $10.5 million historic rehab tax credit project creating 144 mixed-income apartments.
Many members will remember a few years ago when Walgreen's wanted to raze Theresa School (an enhanced award winner from 2006) for a strip mall. Had that plan gone forward, another historic building, the Shingle Style Tower-Manley House at 1520 South Grand, would also have been lost. Instead, the Board of Education revoked its contract with the mall developer and added protective contingencies to the future sale of surplus historic buildings.
In April of 2005, Pete Rothschild (another repeat award winner) bought the 1889 house designed by a Boston architect named (believe it or not) Edgar Allan Poe Newcomb and hired LANDMARKS to prepare a National Register nomination. Adapted into five condos from plans by Fendler & Associates, the $900,000 historic tax credit project was built by Red Brick Management. Additional financing came from Montgomery Bank.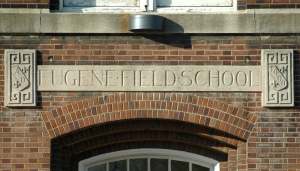 The well-publicized LANDMARKS/Post Dispatch charette from 1999 attracted thirteen teams and six distinguished jurors. This diverse streetscape on Olive (centered at the intersection with Taylor) included vacant National Register icons such as the precarious Lister Building (designed in 1904) and William B. Ittner's Field School from 1900. A year and a half later, Sue and Uan Nguyen of Central West End Builders took on the heroic rescue of the Lister Building for which they received an enhanced award in 2004. In 2007, they were back to pick up another tribute-- this one for the Field School Lofts at 4466 Olive. Designed by Rosemann & Associates, each of the 32 apartments (named for an educator) features kitchen cabinets from Italy, slate or marble baths, personal washer/dryers and stainless-steel appliances. National City Bank provided financing for the $5.5 million historic tax credit project.