SLU Purchases Former Pevely Site on Grand.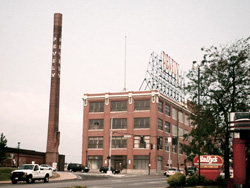 Pevely Headquarts 1001 S. Grand

The September 2011 message from the President of St. Louis University, Lawrence Biondi, noted several property acquistions made by the university. Among the acquistions are the former Bee-Line Trucking Company at 3300 Chouteau, the northwest corner of Grand and Chouteau previously owned by Cortex and the former Pevely Dairy at 1001 S. Grand. Constructed in 1915, 1001 S. Grand was designed to house the headquarters for the Pevely Dairy Company. The building remained the headquarters for Pevely until it was vacated on October 31st, 2008. Of the more than 130 workers at the dairy, roughly 20 were transfered to a plant in Hazelwood. That plant is owned by Prairie Farms, the parent company of Pevely Dairy. For the past three years the building has sat vacant.
The news of the purchase of this historic site in St. Louis alarms preservationists. Will the building suffer the same fate as the 3600 block of Hickory and Rutger behind the SLU Medical Center, which is currently being demoed for the university? Or will the building be thoughtfully re-used like the former Mogerns Building at 3407-11 Olive, which is owned by SLU and currently houses a hotel, cafe and business center. The fate of the former Pevely headquarters is unknown. SLU currently owns three of the four corners at the intersection of Chouteau and Grand with Captian D's, who have occupied the northeast corner since 2001, being the only hold out. The one saving grace is 1001 S. Grand was listed on the National Register of Historic Places in 2009, while Prairie Farms still owned the property. However, inclusion on the National Register does not assure the building will be preserved. Listing a property on the National Register does:
* Provide prestigious recognition to significant properties
* Encourage the preservation of historic properties
* Provide information about historic properties for local and statewide planning purposes
* Help promote community development, tourism, and economic development
* Provide basic eligibility for financial incentives, when available
The National Register does not:
* Restrict in any way a private property owner's ability to alter, manage or dispose of a property
* Require that properties be maintained, repaired or restored
* Invoke special zoning or local landmark designation
* Allow the listing of individual private property over an owner's objection
* Allow the listing of historic districts over a majority of property owners' objections
* Require public access to private property
Landmarks will continue to follow this story. We all hope that this significant resource of the historic fabric of our city will be retained and thoughtfully re-used by Saint Louis University.