Lambert Field
You'd have to be crazy not to comprehend that Lambert-St. Louis airport is a mess and has been one for years. But should the mess be blamed even partially on a building the airport's official history calls "the forerunner of modern terminal building plans"?
Terminal at night circa 1970.
The mid-1950s terminal was designed by the firm of Hellmuth, Yamasaki and Leinweber, a predecessor firm of Hellmuth Obata + Kassabaum. Minoru Yamasaki (1912-1986) was responsible for its design. When completed, his building was hailed as a marvel. It was, indeed, the first airport building to make a formal statement about aviation and aerodynamics. Over the years, it has been added onto with mixed results, but in spite of various improvements and mistreatments, the original building and the essence of Yamasaki's vision for it stand proudly. Originally composed of three vaults, an identical fourth was added in 1965.
However, in announcing plans for a $100-million plus face-lift for the airport last month, the Post-Dispatch reported Mayor Francis Slay's saying he hears from business-group members that the terminal building is dingy, that the facilities are old and tired, built more for utility than for customer service.
This is the reported mayoral assessment of a building whose ancestry extends all the way back to ancient Greece and Rome, to tholos tombs and basilican halls. A more recent kinship can be established with engineering advances of the 19th century, in particular the work of the polymathic Russian engineer and genius, V. G. Shukhov. Shukhov designed revolutionary thin-shell structures for exhibition halls in 1896. Their influence was immediate and is pervasive in the history of modern architecture. The Lambert building is a lineal descendent of this exhibition space. In addition to the links to Shukhov's work, the terminal can be placed prominently in the company of work by architect-engineers such as Pier Luigi Nervi, Félix Candela, Eduardo Torroja y Miret, Frei Otto and others.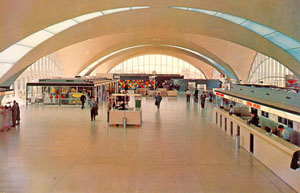 Interior View of Terminal Building circa 1965.
In his splendid book Modern Architecture in St. Louis, historian Eric Mumford writes that the new terminal "was based on the idea of repetitive concrete-shell vaulted halls, each 120 feet square and 32 feet high…. The vaulted concrete roof over the check-in areas echoed the forms of the Roman Baths of Caracalla, itself the model for New York's Pennsylvania Station and the main hall of the St. Louis Art Museum. This modern grandeur led Architectural Forum to call the terminal the 'Grand Central of the Air' and suggest it was a prototype for a new generation of air terminals."
Lambert's airport siblings are buildings such as the TWA terminal at John F. Kennedy Airport in New York and the Dulles –Washington Airport terminal, both designed by Eero Saarinen, who left his indelible mark on St. Louis on the riverfront downtown.
As much as any transportation building ever created, Yamasaki's terminal for St. Louis sang lyrically of the grace and beauty of flight. He traced the trajectory of the miracle of the Wright Brothers' first flight at Kitty Hawk in his building's vaults. He brought in another modernist trailblazer, Harry Bertoia, and commissioned him to create a decorative screen that separated the airport restaurant from the ticketing and check-in areas with brilliant-colored vibrancy. In a subsequent addition to the terminal building, the screen was yanked out and vanished forever.
In a telephone interview in mid March 2007, airport authority engineer Rich Bradley describes the presentation, prepared by HOK and David Mason Associates, as "conceptual" and "by no means exactly what we'll see," but noted also that the finished product "obviously will be similar." He said an RFQ -- request for qualifications -- would bring in names of qualified architects and the "conceptuals will be put out on the street."
Various interior improvements suggested in the conceptuals may or may not alleviate some of that confounding confusion and dinginess. But the main feature – and the most troubling aspect -- of the conceptual presentation is a gigantic glass canopy that kisses the Yamasaki building at four places then fans out over five or six lanes of vehicular traffic. In terms of its function, one is reminded of the approach to the Ameristar Casino in St. Charles, which provides a monumental porte cochere to keep patrons' clothing dry before going inside to lose their shirts. The canopy may derive inspiration, however weakly, from the work of Hector Guimard and/or Santiago Calatrava.
But in the process of protecting six lanes of traffic from inclement weather, this canopy will obliterate forever any view of the terminal building from the south, which is already compromised. A plan that would further conceal the building is cause for alarm and reason for debate. A better plan would emphasize its profile; make it more prominent and more visible.
This "conceptual" has an air of ostentation and, as ostentatious as it is superfluous, an over-reaction to the need for a sheltered place for embarking and disembarking and an abject genuflection to people friendliness. Before more work is done, and when public hearings on it are conducted by the Board of Public Service, the idea should be thoroughly discussed by the men and women of the region, travelers and non-travelers alike. Importantly, it should also be reviewed not only by politicians and airport officials but also by architects, designers and scholars who respect historical continuity, who decry mediocrity and expediency and who stand firm in a commitment to enhance built environment with integrity and originality
Improvements are in order at Lambert Field. Yet rather than place the blame where it belongs, on draconian security measures, on ham-fisted, desultory renovations, on seat-of-the-pants decisions that have exacerbated the challenges presented to airline passengers, it's been dropped at the front door of the original terminal building. A building that was and is a whopping success.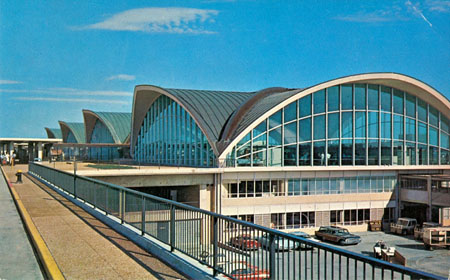 Exterior view showing newly completed east bay in 1968.
Embedded in the dingy crack and intimations of obsolescence is an inference that the 1950s building has gone, in a generation, from landmark to lean-to villain, that somehow the interior volumes of this building have contributed to the chaos of the times rather than being, in fact, a lofty, noble and innocent bystander. In fact, passengers who travel frequently nowadays find all airports intimidating and bewildering. In the current political miasma, where scare tactics rule and alarms are sounded to maintain a sense of disequilibrium, travel by air is a nerve-wracking, unsettling adventure.
But that, my friends, ain't the buildings' fault. Just as it was wrong to blame the Century Building for being in the way of parking spaces for skittish suburbanites and sluggish judges; just as it was ridiculous to blame an empty Old Post Office for downtown desuetude; just as it was irresponsible to blame Edward Durell Stone's Busch Stadium for insufficient cash flow to the owners of the baseball team, it is dishonest and contemptible to lay the blame for the airport's problems at the front door of the Yamasaki building, and to suggest that solutions to complex problems at Lambert Field can be addressed with what amounts not to a real face lift but to an application of architectural mascara.
The fault, St. Louisans, is not in the building, but in ourselves, that we are content to be underlings, subservient to decision-makers who act either precipitously or in their own interests -- or both. It is time to intervene, and there's no better place to start than at the airport.
(First published in the March/April 2007 issue of Landmarks Letter.)