Usonian-Inspired Hammerman House Listed in National Register of Historic Places
April 14, 2008
Recently listed in the National Register of Historic Places, the Harry Hammerman House at 219 Graybridge Road in Ladue was designed and built in 1952. The only known work by its occupant and namesake, Harry Hammerman (1909-2001), the modest one-story dwelling is located in a unique fifteen-acre subdivision laid out in 1939 by architect Isadore Shank and his colleague Jim Auer as an enclave of mostly Jewish practitioners of architecture and the visual arts. (Shank's son Peter recently described the subdivision as "very much like a commune.") Mid-century luminaries Meyer Loomstein and Gustel Kiewitt each designed a house on Graybridge, while Shank designed five houses including one for his own family. It was non-architect Hammerman, however, who provided the most thoroughly contemporary house on the street.
A 1930 graduate of Washington University with a degree in architectural engineering, Hammerman joined the fledgling I. E. Millstone Construction Company in 1934 rising to become executive vice president of construction with extensive experience in the design and construction of Modern buildings. He was also well acquainted with the vocabulary expressed in Frank Lloyd Wright's Usonian houses. Put forward as an affordable answer to the suburban "small house problem" in 1938 during the Great Depression, the prototypical "Usonia" (Wright's term for an idealized United States) house featured reduced floor space, consolidation of the living and dining rooms, natural light and ventilation and slab construction on a lot left as natural as possible. Pragmatic, with a grid system easily adapted for expansion, this model house of approximately 1,500 square feet would be reworked by Wright and others for the next twenty years.
Hammerman exploited the natural grade of his deep but slender site, placing the slab-foundation on a relatively level spot set back from the street. In keeping with Wright's Usonian houses, Hammerman selected mass-produced building materials: brick, weatherboard, plate glass, aluminum windows and coping. His choice of bomber plane gun turrets as skylights, however, was an unprecedented application of the Usonian principle of using non-custom materials! Further Usonian tendencies included radiant floor heat with a central attic fan and clerestory instead of central air conditioning. Just as Wright anticipated expansion of his Usonian homes, Hammerman designed the garage to be adapted into another private room.
Hammerman's skillfully articulated plan creating functional differentiations between parts of the house was expressed not only in spatial divisions but also in exterior appearance. The front face of the living area was distinguished by a large expanse of glass, for instance, while the entrance is recessed with weatherboard cladding. The bedrooms enjoy privacy on the front elevation, where they are marked by a blind brick wall; further privacy comes with the deep recess and shade-producing roof overhang on the side elevation where the bedroom windows are located. Although built-in components reduced the need for furniture, daughter Cirla Hammerman Hans reports that Mid-Century modern pieces acquired from Brno, Knoll and Robs John Gibbings remained exactly where they had been placed in 1952 until her father's death in 2001.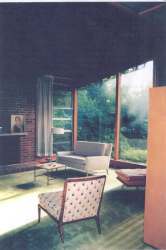 Although Graybridge Road had been connected by lanes to adjacent streets after WW II, the Hammerman House stood next to a five-acre strip of forest laid out as a permanent common space around the subdivision. This amenity would save it from demolition after Harry Hammerman's death. A buyer hoping to build two new houses on the extremely deep but narrow site purchased the property as a "tear-down." Finding no way to get driveway access to the rear lot, he eventually put the ill-secured house back on the market. This writer wandered through it in 2006 without benefit of authorized guide or key. Fortunately, the forlorn Hammerman House has since attracted a perfect new owner in architect Ray Simon, a LANDMARKS member who is undertaking a sensitive rehabilitation.
The Hammerman House gained recent recognition through inclusion as one of thirty-five houses built between 1935 and 1961 in Esley Hamilton's pamphlet, Mid-Century Modern Architecture in St. Louis County: Outstanding Examples Worthy of Preservation. It was also the subject of the nomination to the National Register of Historic Places written by Landmarks' Assistant Director Michael Allen. But neither scholarly publications nor National Register listing will ultimately protect this property or any other historic building in Ladue-a city without preservation legislation. Members who are Ladue residents should contact their Mayor.
A version of this article appeared in the January-February 2008 Landmarks Letter.