Theordore Sizer: Designer of the St. Louis City Flag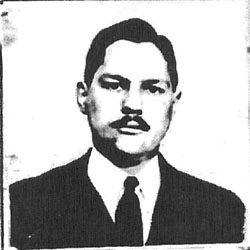 Theodore Sizer. Passport photo dated 1920.
The unmistakable solid red flag with intersecting wavy blue and white lines covered with a fleur-de-lis was adopted as St. Louis' municipal banner during our bicentennial in 1964. Known as the "Three Rivers" flag, the design represents the city of St. Louis at the confluence of the Mississippi, Missouri and Meramec Rivers. Red, white, gold and blue were chosen as the colors of the city's flag to portray the four different empires that have ruled St. Louis. These countries include Spain, Bourbon France, Republican France and the United States. The meaning and approval of our city flag is well documented, however very little is known about its designer, Theodore Sizer.
Affectionately known as "Tubby", Sizer was born on March 19, 1892 in Manhattan, New York. The son of a prominent southern pine lumber wholesaler, Sizer was raised in the Upper West Side just blocks from Central Park. After completing his primary education, Sizer traveled to Europe in 1909. From there he continued his journey around the world and returned to the United States in 1912 to attend Harvard University. After receiving a degree in Art History, Sizer returned to New York City and secured a job with import-export agency, George H. McFadden and Brothers. In 1916, he married Caroline Foster and the couple moved to 1186 Lexington Avenue in the Upper East Side Neighborhood. His career with McFadden was interrupted with America's involvement in World War I. Sizer volunteered for duty and was a First Lieutenant with the Army during the war. At the conclusion of the war, Sizer continued to work with McFadden until he took a position as the curator of the Cleveland Museum of Art in 1922. He continued to work and live in Cleveland until being named professor of Art History at Yale University in 1927. Subsequently, Sizer became the Director of the Yale University Art Gallery. He stepped down as director in 1947 and retired from teaching ten years later. During his retirement he designed flags for the City of St. Louis and Yale University. He continued to live outside of New Haven, Connecticut in the upscale village of Woodbridge until his death in 1967.
Known for his gregarious character, Sizer was also well recognized for his walrus white mustache and flowing capes. An enthusiastic instructor, he was known to fall from his podium during lectures. He maintained a variety of interests, including painting and weaving hooked-rugs. Sizer's son, Theodore, Jr., also attended Harvard and was a leader in education reform. Theodore, Jr. was a professor and later chair of the Education Department at Brown University and he became the Founding Director of the Annenberg Institute for School Reform.