Southern Funeral Home: Appeal of Building Permit by Dollar General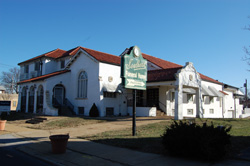 Southern Funeral Home - 6322 S. Grand

A public hearing of the St. Louis Board of Adjustment will be held on Wednesday, January 18th at 1:30PM at City Hall in Room 208. On the agenda is Appeal 9914 filed by Dollar General concerning the Southern Funeral Home at 6322 South Grand. The chain store corporation is appealing the denial of a building permit by the Building Commissioner. The denied permit allowed for the construction of a new retail store and would have been contingent upon approval by the Zoning Department for a zoning variance. Since the plans are currently being resolved, details of the project are not available to the public. If you live in the 11th Ward and agree with the Building Commissioners denial of the building permit and wish to see it upheld by the Board of Adjustment, attend the meeting on the 18th. Contact 11th Ward Alderman Tom Villa to express your opinion. Also, the Board of Adjustment is appointed by the Mayor. Contact Mayor Slay and let him know how you feel.
6322 South Grand in the Carondelet Neighborhood has been the site of the Southern Funeral Home for 82 years. An institution in St. Louis since 1908, the present building was constructed in 1929 from the designs of George Kennerly and Oliver Steigemeyer. The architects designed a building replete with Spanish influenced elements. The style at the time of the Southern's construction was known as Spanish Colonial Revival. The popularity of the style was the result of the Panama-California Exposition held in San Diego from 1915 til 1917. The exposition hired New York architect Bertram Goodhue to design the fairgrounds. Goodhue moved away from the fashionable Mission Style and emphasized the ornate Spanish Baroque style of the 18th Century. Using elements of Churrigueresque, an extravagant sculptural ornamentation created by Jose Benito de Churriguera, Goodhue's designs inspired architect throughout the nation. Kennerly and Steigemeyer's creation remained a funeral home until the first decade of the 21st century. On the market for over a year, hopefully this architectural anchor at Grand and Holly Hills can be adaptively reused.
If you want the Board of Adjustment to uphold the Building Commissioners denial of a permit for the construction of a new retail store a the location, contact Alderman Villa and Mayor Slay.