Southern Dropped from Board of Adjustment Meeting.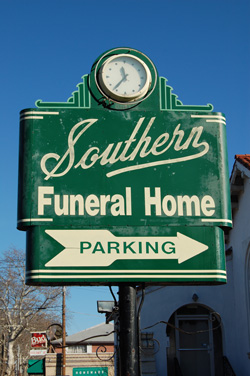 Southern Funeral Home-6332 South Grand
The zoning variance for the Southern Funeral Home was abruptly removed from the agenda for the Board of Adjustment meeting today. Dollar General, the applicant for the zoning change that would have allowed for the demolition of the Southern, asked for an extension.
Alderman Tom Villa of the 11th Ward, where the Southern is located, met outside Room 208 at City Hall to explain the extension. "I just found out about this 93 seconds ago," quipped Villa. The alderman was unaware that Dollar General had dropped the appeal from the agenda until he arrived for the meeting. He relayed his efforts of trying to contact Dollar General about the proposed project but to no avail. Villa has not seen any site plans nor elevations of the proposed new construction. Standing with 15 individuals opposed to the zoning variance and subsequent demolition, Villa stated that a large majority of his constituents in the 11th Ward wanted the Southern Funeral Home retained.
Currently, it is unknown when the appeal will be rescheduled to be heard by the Board of Adjustment.