Save the Rock Hill Church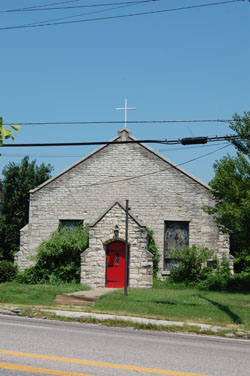 The Rock Hill Board of Alderman met last night at their new city hall located at the rear of the city's police department. As citizens gathered in plastic seats in the nearly windowless concrete block room painted pink, a call of order came from the board followed by the Pledge of Allegiance. After roll call, Chris Musial approached the microphone to address the board on the operations of the Save the Rock Hill Church Committee. The committee is a group of concerned private citizens dedicated to saving the historic Rock Hill Church structure by moving it to another site. Last July, the Rock Hill Planning and Zoning Committee approved a site plan allowing U-Gas to construct a gas station at the site of the Rock Hill Presbyterian Church. Before approval, an amendment was created stipulating that the church would remain for six months. During that time, a plan could be devised to save the church. The original deadline of February 1st was recently extended to April 1st. Currently, building permits for the construction of a gas station at the northeast corner of Rock Hill and Manchester have not been issued.
Musial's report began by addressing three key conditions that must be met in order to move the church. First on Musial's list was a business plan. The plan is currently being formulated by the committee and Musial stated it would be finalized by the next Board of Aldermen meeting. The second condition is a location for the church and the Fairfax House. The Save the Rock Hill Church Committee looked at several different locations and settled upon Rock Hill Park. Located at 827 North Rock Hill Road, the park contains roughly 1.51 acres and is situated directly behind a large strip mall which faces Manchester Road. The last item on Musial's report was the issue of raising funds to move the church. The committee is in discussion with large donors and has the support of several historical societies in the area. To raise awareness of the project and rally support from local citizens, the committee created a Facebook page.
After the report came a discussion concerning key elements of the plan by the Board of Aldermen and Musial. Alderman Robert Weider asked Musial about the physical cost and logistics of the move. Musial secured two quotes each ranging from $150,000 to $200,000. Both companies would be able to move the church and home to the new location. During the move two sets of power lines would have to be disconnected. During the discussion, the board appeared supportive of both moves to a new location.
If you would like to support the Save the Rock Hill Church organization, "like" their Facebook page or check out their website for information about making donation to move the church.