Results of the St. Louis Preservation Board Meeting Held January 24, 2011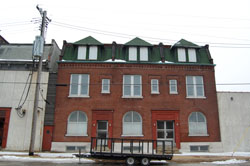 152-156 Victor Street

R & R Contracting Services Inc., headquartered in Pittsburgh, Pennsylvania, applied for a primilinary review for the demolition of a complex of buildings at 150 Victor Street. The Cultural Resource Office of St. Louis (CRO) recommended that the preservation board approve the demolition of the complex with the exception of a three story red brick flat formerly known as 152-156 Victor Street. CRO recommended the flat be preserved due the structural soundness of the building. The flat also retain a high amount of historic integrity due to the minimal alterantion made to the building throughout its lifetime. The remaining structures and buildings are sound but have suffered from deferred maintenance and extensive alterations. Because of the previously stated reasons, the remaining buildings can not be considered a contributing resource. CRO was concerned with such a large scale demolition due to the impact it would have on the surrounding area, which is a Preservation Review District.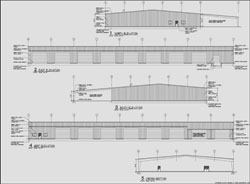 Proposed plan for demoed block
R & R Contracting Services, Inc. proposed the construction of a large prefabricated metal structure with open frame sheds to replace the complex of buildings. CRO asked the preservation board to deny the demolition of the three story red brick building and have R & R Contracting Services, Inc. alter their plans to incorporate the historic residence into their project. The preservation board did not take CRO recommendations and allowed the demolition of the entire block, including the three story red brick building. For more information, read CRO's final agenda.