Regional Arts Commission Grants Support Twenty Years of Landmarks' Educational Programs
Since 1991, the the Regional Arts Commission (RAC) has supported Landmarks' acclaimed heritage education program "What Are Buildings Made Of" in addition to other initiatives such as "Art on Rails" and "Art on Wheels." Because of RAC's steadfast support, these programs have reached thousands of people and introduced them to the wealth of historic architecture and public art in the St. Louis area. The WABMO program in particular has grown from its initial focus on elementary-age students and today reaches a wide and diverse audience of secondary and college students, adult education organizations, professional organizations, and community groups.
Unique in the region, WABMO introduces students of all ages to the art and artistry of St. Lous' architectural heritage while discussing issues such as sustainability as well as the aesthetic, economic and social advantages of adaptive reuse.
Throughout its twenty-year lifespan, we have found that WABMO has had a ripple effect that spreads beyond Landmarks Association because it spurs educators to create their own lesson plans that discuss issues introduced by the program in more detail. For example, teachers in the Rockwood School District for years have been creating lesson plans that begin with WABMO and end with students devising strategies of adaptive reuse using green technologies for an endangered building in the region. It is always a pleasure for Landmarks' staff to receive emails from students that attended WABMO programs asking for more information on a particular endangered building as background for one of their assignments, or to review and critique final products that are submitted for comments. Education is a critical component of the mission of Landmarks Association, and instilling a sense of appreciation and stewardship for St. Louis' outstanding legacy of architectural artistry among younger generations is one of the most important ways we work to ensure a future that appreciates its past.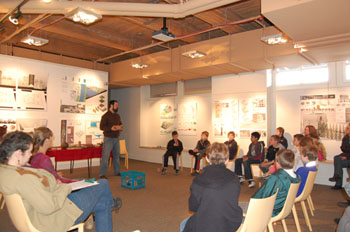 The Art on Rails and Art on Wheels programs were conceived as a way for Landmarks to further its mission of being both an educational resource as well as an advocate for sound urban planning practices. Because the organization believes that mass-transit is a critical component of a healthy city, and because we felt that the utility of the programs should not only be reserved for people with cars, the programs were designed around Metrolink and Metrobus routes. The target audience for the programs was both the local community as well as tourists and recent immigrants. In an effort to be as inclusive as possible, the brochures were printed in a wide range of languages and are organized to clearly guide users through various areas of the City pointing out cultural attractions. If you are interested in obtaining copies, Art on Rails and Art on Wheels are available in many hotels and tourist information centers around town as well as at Landmarks' offices.
The Regional Arts Commission was founded in 1985 to promote, encourage, and foster the arts and cultural institutions in St. Louis City and County and to contribute to the economic development of the area through a strong presence of the arts. The mission of the Regional Arts Commission is to create an environment that nurtures artists as well as arts and cultural organizations by:
Providing funds to promote, encourage and foster the arts and cultural institutions and activities within its boundaries
Promoting and preserving cultural diversity
Helping artists and arts and cultural organizations improve quality
Creating equal access to cultural opportunities
Insuring consideration of aesthetic issues in local decision making
Continuing to engage in cultural planning
As you can see, the mission of Landmarks Association and RAC have a great deal of overlap. Through Landmarks' efforts to document the history and built
environment of neighborhoods throughout St. Louis, the organization adds depth to the collective understanding of the roles different cultural and ethinic groups have played in our City's development. Outreatch efforts that accompany documentation projects attempt to connect current residents with the heritage of their neighborhoods in the hope that people will come to see that history is not static and that their current communities are just the most recent chapters in the City's collective story. In addition, Landmarks' advocacy for the historic built environment ensures that aesthetic issues are considered in local decision-making. When Landmarks offers constructive criticism of a short-sighted demolition proposal, or monitors the decisions of the City entities tasked with protecting architectural resources, the organization is fighting for long-term aesthetic goals. Landmarks Association would like to thank the Regional Arts Commission once again for twenty years of support and partnership!