Proposed Demolitions to be Reviewed by the Preservation Board on Monday, February 28, 2011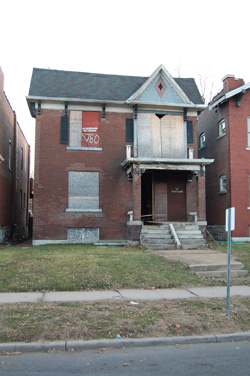 5780 McPherson Ave
5780 McPherson Avenue
5780 McPherson Avenue was constructed circa 1911 and is located within the Skinker-DeBaliviere, Catlin Tract, Parkview Certified Local Historic District. The property is owned by the Land Reutilization Authority and has been vacant for nearly a decade. The Preservation Board will make a preliminary review of the request for a demolition permit by LRA. The Cultural Resource Office recommends the Preservation Board denies the request.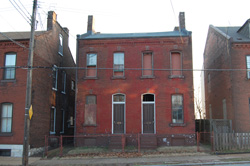 1212-14 Lynch St
1212-14 Lynch Street
The two story, four family flat was constructed circa 1886 and sits within a Preservation Review District in Ward Nine. The building sits on a small triangular block bound by 12th, 13th and Lynch Streets. The southern boundary of the Soulard National Register Historic District lies directly across Lynch Street. The Anheuser-Busch Complex is situated southeast of the building across 12th Street and the Mad Art Gallery, which occupies a former Art Deco police station, is located across Lynch Street. The owners of the building are appealling the previous staff denial for a demolition permit. The Cultural Resource Office of St. Louis recommends the Preservation Board upholds the denial of the demolition.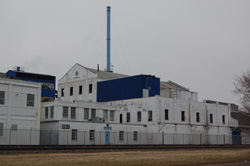 5570 Manchester Ave

5570 Manchester Avenue
The Elementis Specialties Plant, located at 5570 Manchester, is situated between two parallel railroad lines south of Manchester Avenue between Macklind and Sublette Avenues. Spirtas Wrecking Company is seeking a demolition permit to razed two buildings within the plant. The buildings consists of a four story brick factory constructed in 1890 and a two story addition on the north wall of the factory constructed in 1911. Both buildings were constructed for the St. Louis Lead and Oil Company. The industrial plant sits within a Preservation Review District in 24th Ward and is considered a qualifing site eligible for listing on the National Register of Historic Places. The complex is significant for its relation to the industrial development of St. Louis. George Carpenter, President of the St. Louis Lead and Oil Company, relocated the company to the western edge of St. Louis circa 1890. The industrial site expanded between 1910 and 1911 after it was incorporated with The National Oil Company conglomerate. Due to the site's historic significance, Cultural Resources recommends the Preservation Board to deny the request for a demolition permit.
To learn more about other items being reviewed by the Preservation Board, read Cultural Resources February 28th agenda. The Preservation Board meeting will take place at 1015 Locust Street in Room 1200 at 4:00 PM on Monday, February 29, 2011.