Premilinary Agenda for Preservation Board on January 23rd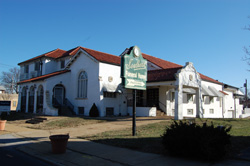 Southern Funeral Home in Carondelet

Demolition permits for the Southern Funeral Home and 3600 South Jefferson are scheduled for review on the preliminary agenda of the Preservation Board meeting on Monday, January 23rd. The meeting will be held at 1015 Locust in Room 1200 at 4:00PM.
The demolition permit for the Southern Funeral Home was applied for by Capital Growth Buchalter Properties whose notable clients include Dollar General. The chain store is currently appealing a denial for a building permit by the St. Louis Building Commissioner. The denied permit allowed for the construction of a new retail store and would have been contingent upon approval by the Zoning Department for a zoning variance. The denied permit will be reviewed at a public hearing at the Board of Adjustment on Wednesday, January 18th at 1:30 PM in Room 208 at City Hall. 6322 South Grand in the Carondelet Neighborhood has been the site of the Southern Funeral Home for 82 years. An institution in St. Louis since 1908, the present building was constructed in 1929 from the designs of George Kennerly and Oliver Steigemeyer. If you believe the Southern should be retained contact Alderman Tom Villa of the 11th Ward, where the building is located, and let him know.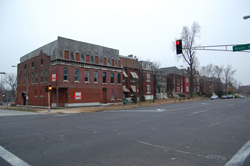 3600 S. Jefferson in Benton Park
The second permit under review by the Preservation Board is for the demolition of the 127 year old building at 3600 South Jefferson Avenue. Concordia Publishing House, applicant for the permit, plans to seed the lot and use it as green space if the building is demoed. A contributing resource of the Benton Park Historic District, 3600 South Jefferson was construction during the Summer of 1885 for German immigrant Ferdinand Vallermann. If you have an opinon on the proposed demolition of the building contact Alderman Craig Schmid of the 20th Ward, where the building is located, and let him know.
If you have an opinion regarding the demolition permits under review contact Cultural Resource Director Betsy Bradley and Mayor Slay.