Pevely Dairy Design Charrette: Adaptive Re-Use is an Option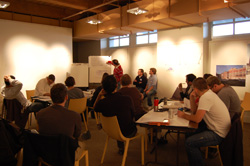 Charrette attendees discussing their designs.
On Saturday, November 19th, Landmarks Association, the Preservation Research Office, and Nextstl.com co-sponsored a design charette at Landmarks' offices to explore alternatives to the proposed demolition of the Pevely Dairy. The organizing principle of the meeting was that the retention of the landmark dairy buildings and a new doctors' office for St. Louis University Medical Center are not mutually exclusive. Using information about Saint Louis University's real estate holdings in the immediate vicinity of the dairy, site and floor plans from the National Register nomination and creative thinking, architects, planners, preservation specialists, and even a physician developed multiple, feasible proposals for the site. The plans that were produced demonstrate how existing open space and the existing dairy complex could be combined to house a state-of-the-art medical facility along with amenities and housing for students, doctors, researchers, and other staff who work in the adjacent medical campus.
The plans that were generated save Saint Louis University the cost of demolishing the landmark buildings and capitalize on existing financial incentives for adaptive reuse by taking advantage of State and Federal Historic Rehabilitation Tax Credits. In addition, they comport with Saint Louis University's stated commitment to sustainability, demonstrate a plan of action that is sensitive to the surrounding urban fabric and the wishes of its residents, and work with the design of the new, pedestrian-friendly Grand Boulevard overpass. The plans will be presented at the upcoming meeting of the St. Louis City Preservation Board on Monday, November 28th. The hard work of these eminently qualified architects and assorted professionals, most of which have worked on high-profile rehabilitation and adaptive reuse projects before, provides clear evidence that with just the tiniest amount of flexibility and creativity, Saint Louis University could turn the vacant complex into a great opportunity.
There is still time to voice your concerning over the proposed demolition of the Pevely Complex and the National Register listed Cupples 7 Warehouse. Contact the following people and let them know how you feel. Also be sure to attend the November 28th Preservation Board meeting. Public comment is allowed and will be heard.
Joe Roddy - Alderman of the 17th Ward where Pevely is located.
Phyllis Young - Alderwoman of the 7th Ward where Cupples 7 is located.