No Changes to Historic Tax Credits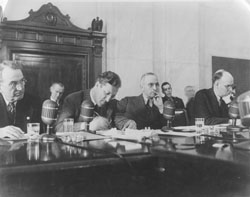 Sen. Harry Truman leading Special Session.
The Alliance for Investment, Jobs and Preservation in Missouri (AIJP) relayed in a statement via e-mail that the Special Session was adjoured by the Missouri Senate without changes to Historic Tax Credits. Below is the e-mail from the AIJP.
"As you may have heard by now, the Senate has officially adjourned and the Special Session has ended with no changes to Historic Tax Credits. Many, many, thanks to all of you who contacted your legislators to let them know how important this program is to Missouri's economy. Your time was very well-spent!
It was ironic that the proposed jobs bill had the potential to end a program that has spurred over $6 BILLION in investment and created more than 40,000 jobs in Missouri since it began in 1998. (Statistics are from the MO Dept of Economic Development.) Even more dramatic is the estimate of construction jobs created. If half of the project total above went to construction costs, we gained some 75,000 construction jobs. ($3,000,000,000 @ $40,000 = 75,000) As you are well aware, the end of session is not the end of the threat; as long as the state budget is short, we will need to defend this vital economic engine. Thanks again; we'll send out a full legislative report soon."
Thank you all for contacting your representative and letting them know your opinion of saving Missouri's Historic Tax Credits!