Kieselhorst Piano Company Listed in the National Register of Historic Places
Kieselhorst Piano Company Building.
Photograph by Lindsey Derrington.
May 6, 2008
Completed in 1890, 1007 Olive housed the Kieselhorst Piano Company, a locally-owned manufacturer and dealership, from 1906 to 1930. First-generation German immigrant John A. Kieselhorst founded the instrument and sheet music company in 1879, prospering until his early death at age fifty-one in 1895. Son Edwin, then only twenty-one, then took over the company. He aggressively expanded its services and goods to capitalize on new technologies such as the player piano and, later, the victrola, giving Kieselhorst's a competitive edge. The move to 1007 Olive put the company in the heart of Saint Louis' dense and most elite music district on Olive between Ninth and Twelfth Streets which had thrived since the early 1880s. Yet as the piano's popularity began to die down so did the district, and by 1930 Edwin Kieselhorst saw fit to dissolve the company while still financially sound.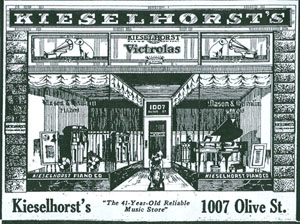 Listed on the National Register on April 10, 2008, the Kieselhorst Piano Company Building joins its neighbors, the Balmer & Weber Music House Company Building (1004 Olive, NR 8/31/00) and the Thiebes-Stierlin Building (1006 Olive, NR 1/28/04), in being recognized for its local importance as one of the few remnants of a once-vibrant district fueled by the musical culture of Saint Louis' German immigrants.