Kiel Opera House Turns 75 and Redevelopment Looms
April 22, 2009
The grand civic space, originally known as the Municipal Auditorium, opened to the public on Saturday, April 14, 1934 with Mayor Bernard Dickman declaring a half-day holiday so all citizens could attend the dedication. Emily Roosevelt, cousin of the President, sang the National Anthem as well as "America," accompanied by the grand opera chorus.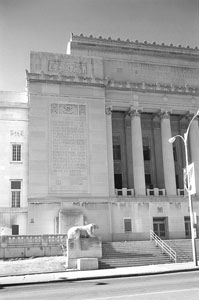 Landmarks photo
For the next two weeks, St. Louisans enjoyed non-stop festivities, including productions of Aida, Pagliacci, La boheme, and Madame Butterfly, produced by impressario Guy Golterman. In addition, patrons enjoyed a pageant of 19 scenes and a cast of 550 people portraying the "Musical History of St. Louis" accompanied by an ensemble consisting of 14 grand pianos and 28 players. Containing a 3,500-seat opera house, an auditorium with a capacity of over 12,000, smaller assembly rooms and an exposition hall, the auditorium was an ambitious publicly-financed civic achievement.
The Kiel was listed in the National Register of Historic Places by Landmarks Association in 2000. Recently, Dave Checketts, chairman of SCD Worldwide and owner of the St. Louis Blues, Scottrade and the shuttered Kiel, announced plans for a restoration of the grand entertainment center with a re-opening scheduled for 2010.
Diane Rosen, Senator Robin Wright-Jones,
Ed Golterman Senator Eric Schmitt.
Saint Louis County Executive Charlie Dooley,
3rd District Councilwoman Colleen Wasinger,
Diane Rosen and Ed Golterman, following the
Council's issuing of a resolution honoring Kiel
Opera House on her 75th anniversary