H. May Steinmesch: Architect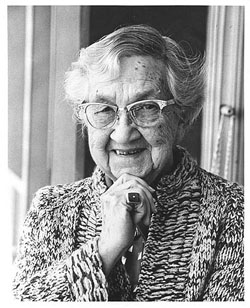 H. May Steinmesch

At the turn of the twentieth century, higher education allowed women access to new career opportunities in traditionally male dominated fields. One such profession women became actively involved in was architecture. However, these college educated women were virtually alone in the profession. Unable to join men's architectural fraternities or clubs, women were unable to network with other accomplished women in their field. In 1915, the first women's architectural organization, called La Confrerie Alongie, was established at Washington University by four students. Among these founding members was native St. Louisian, May Steinmesch.
Henrietta May Steinmesch was born in St. Louis on May 9, 1893 and was the daughter of a prominent feed and poultry merchant. Raised in University City, Steinmesch attended Washington University's School of Architecture. She was one of the first women to graduate from the program in 1915. After graduating, Steinmesch worked as a draftsman with the City Planning Commission for several years. During her professional career, Steinmesch remained active with La Confrerie Alongie. In 1922, the organization morphed into a national association known as Alpha Alpha Gamma. The original student chapter at Washington University was known as Alpha. Three subsequent chapters were formed during the same year: the Beta Chapter at the University of Minnesota-Minneapolis, Gamma Chapter at the University of Texas-Austin and Delta Chapter at the University of California-Berkley. Steinmesch was named the President of the association and the first annual meeting was held in St. Louis in 1922. As the organization became established and grew, it took on a more professional emphasis.
At the national convention of Alpha Alpha Gamma in San Francisco in 1948, the professional chapter reorganized as the Association of Women in Architecture (AWA). The AWA was open to women in the field of Architecture, Landscape Architecture, Interior Design, Sculpture, Fine Arts, Planning and Engineering. Due to financial constraints, the national organization dissolved in 1964. Local chapters of the AWA remained however their memberships dwindled after women could freely join the American Institute of Architects (AIA). With only the Los Angeles chapter remaining, AWA reorganized in 1974 to reflect the broadening of its membership to include everyone interested in supporting women in the field. In 1999, AWA became a non-profit to better facilitate scholarship awards and provide grant opportunities to women pursuing architecture degree and practicing in the profession.
May Steinmesch continued to practice in St. Louis. Her worked varied from designing facilities with the military at Scott Air Force Base to designing interiors across the metropolitan area. During World War II she moved to San Francisco to work with the Western Division of United Service Organization designing facilities. After the war, Steinmesch remained in San Francisco working with architect Henry Gutterson and the city's Redevelopment Agency. In 1953 she moved to Pasadena and established her own practice. She remained in the City of Roses until her death in 1979.