Castle Ballroom For Sale
The Castle Ballroom, originally known as Cave Hall, was designed by architect John Paulus, and constructed in 1908. Built for owners Cornelius Ahern and Herman Albers as a replacement for Uhrig's Cave, where they had previously operated a dance academy and hall. Known as the Cave Ballroom, the new facility opened on August 29, 1908, with music provided by the former Uhrig's Cave Orchestra. The venue hosted dances six nights a week, in addition to private balls and masquerades. Beginning in the 1920's the hall became a popular venue for Jazz concerts, and in 1922 changed its name to the Castle Ballroom.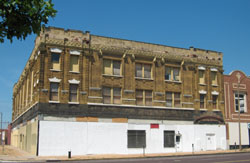 Castle Ballroom at 2831-45 Olive

In 1934, the ballroom closed as the neighborhood was underwent a demographic shift. African Americans were becoming a majority in the nearby Mill Creek Valley due in part to racially-based housing restrictions. The venue reopened in 1935 under new ownership, and was managed by famed African American promoter Jesse Johnson. By the end of the 1930s, Eddie Randle's St. Louis Blue Devils were playing regularly, and a parade of talent including Jimmy Forest, Clark Terry, Ernie Wilkins, and a young Miles Davis graced the stage. Duke Ellington played the club in 1939, and Count Basie followed in the 1940s. Closed in 1949, the venue reopened as The Mocambo around 1950, and stayed in business long enough to host acts like the Ink Spots, and even Louis Armstrong before closing in 1953. Beginning in 1959, the adjacent Mill Creek was wrecked in the name of urban renewal and the Castle was left an abandoned and lonely reminder of the incredible vibrancy of an earlier musical age, and a neighborhood that was no more. The building is currently for sale and it is hoped that a new owner will bring life back to this incredible venue and important piece of St. Louis' cultural heritage.
For more information, contact Leigh Maibes, Re/Max Results
314-324-3322
324-352-7770
http://www.postlets.com/res/5832049