Architecture St. Louis Opens with "What Are Buildings Made Of?"
October 3, 2008
After over two years of planning and capital fundraising, Landmarks' new Architecture St. Louis space hosted its first program on September 26 -- the first fall session of What Are Buildings Made Of? (WABMO), our acclaimed preservation education program. Led by teacher Pamela Hausfather, fifth-grade students from the Rockwood School District's Center for Creative Learning arrived on Friday morning to find our brand-new space and its educational room. There, the students gathered around Researcher Andrew Weil, who discussed the reasons why historic preservation is both culturally important and ecologically sustainable, before presenting samples of historic building materials. WABMO teaches students about the natural resources that become the physical resources of St. Louis. Using building materials as a central theme, WABMO tells stories of the development of the historic city and its architecture.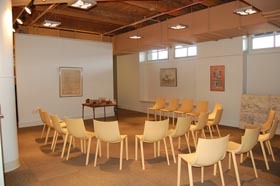 The new space before the students' arrival.
After the presentation and discussion, students formed smaller groups for conversational tours of downtown led by long-time WABMO docents Karen Halla, Tim Corcoran and Venita Lake. Starting at the Lammert Building, where Architecture St. Louis is located, the tours also included buildings on Washington Avenue, the Old Post Office and the Wainwright Building.
| | |
| --- | --- |
| | Students examine terra cotta on a building. |
| Karen Halla starts her tour at the Lammert Building. | Tim Corcoran discusses the Merchandise Mart Building. |
WABMO has been generously supported since its inception by the Regional Arts Commission (RAC). The recent session was the first of four this fall for the Creative Learning Center's fifth-grade students. Also in October, Landmarks will host sessions starting at Architecture St. Louis for Ladue Middle School and Reed Elementary School. (For more information, contact Assistant Director Michael Allen at .(JavaScript must be enabled to view this email address) or 314-421-6474)