William Sylvester Eames, FAIA (1857-1915)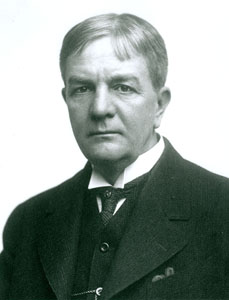 William Sylvester Eames circa 1900.
William S. Eames was born in Clinton, Michigan. His parents, natives of New York State, moved to St. Louis in 1863. Eames graduated from the St. Louis School of Fine Arts in 1878 and worked as a draftsman for local architects before embarking on a study trip to Europe in June of 1881 with travel companion William R. Hodges--outspoken and influential architectural critic for the Spectator. Hodges, who referred to Eames as "a young man of superior artistic abilities," sent back articles about their travels which were published in the Spectator. At least one from July of 1881, penned by "our young Mr. Eames," reported, "Europe is beyond us only in the natural results of an historic maturity. She is behind us in all the contrivances and conveniences that go to make these short lives of ours more tolerable."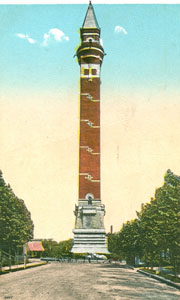 Red, or Bissell Street, Water
Tower.

Upon the travelers' return to St. Louis, Hodges helped Eames receive the appointment as Deputy Commissioner of Public Buildings; by October of 1882, Eames had completed plans for several structures including the City Landmark "Red Water Tower" in Hyde Park. He resigned in 1885 to form a partnership with Thomas Crane Young.
Meanwhile, Hodges was regaling his readers with the virtues of St. Louis brick over the passé "stone front, zinc cornice iron column, pseudo-classic cheap and nasty style" still prevalent in local residential architecture. A supporter of "Modern" architecture, such as the work of Peabody & Stearns from Boston, Hodges warned St. Louis architects that "imported" firms were receiving more and more residential commissions from prestigious local clients.
Eames & Young took Hodges' admonitions seriously. One of their first commissions was a house in the "Modern" style (still standing at 3424 Samuel Shepard Drive) for Halsey Cooley Ives, Director of the Museum of Fine Arts. (The museum, now razed, was by Peabody & Stearns). Other early Eames & Young residential work for important clients, including an 1888 house at 2329 Lucas for Robert S. Brookings, led to commissions in the newly opened private streets of the Central West End and Vandeventer Place.


Rendering of Charles T. Clark residence,
3757 Westminster Place, circa 1888.
Eames & Young's Laclede Pavilion, completed in 1893,
stood at the northeast corner of Forest Park and served
as a streetcar shelter. It was demolished in two phases in
1938 and 1942.

Although a group of local architects had attempted to form a St. Louis Chapter of the American Institute of Architects in 1884, the chapter floundered as had an earlier attempt to form a Missouri Chapter. In 1890, the St. Louis Chapter was reborn with Eames as its first President. In 1904, he was elected National President of the Institute--the first member of the profession from St. Louis to hold that office.
Eames returned to Europe in 1904 and 1906 as a delegate designated by the Department of State to International Congress of Architects meetings. In 1909, he was appointed a member of the National Council of Fine Arts.
A profile of Eames published in Reedy's Mirror in 1908 accounts for Eames' caricature in the earlier St. Louisans as We See 'em: "'Billy' Eames...is as much himself when surrendered to the bonhomie of the hunting or fishing camp as when he talks like a T-square to an assemblage of his fellow craftsmen." Describing Eames as an accomplished painter and a connoisseur in literature, the Mirror's writer further extolled his subject observing that Eames "scorns the arts of the self-advertiser and equally despises the cultivation of 'influences.'...Aside from his abandon in selected fellowship, fit though few, there is somewhat of the recluse about him, and this idiosyncrasy gives to his view of life the tone of delicately shaded irony characteristic of the intellectual 'looker-on in Vienna.'"



St. Louisans As We See 'Em,
1903


"W. S. Eames: Kindly Caricatures No. 153,"
The Mirror, 14 May 1908.
Eames died in early March of 1915. He never married, but was survived by his mother, five sisters and one brother--the father of groundbreaking mid-century modern architect/designer Charles Eames. Although one obituary cited the Palace of Education at the 1904 World's Fair as the design that first brought him national prominence, the Cupples Warehouse Complex (started in 1894) was actually the project most praised by the professional journals (Scientific American, the Brickbuilder, Architectural Record and Inland Architect). Indeed, the firm received exceptionally good publicity for the duration of its existence.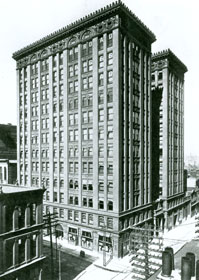 Lincoln Trust (later the Title
Guarantee) Building, completed in
1898, demolished in 1983.

In addition to an impressive collection of elaborate houses, Eames & Young's work included monumental warehouses, the magnificent Lincoln Trust and other handsome skyscrapers, hotels and banks plus assorted exposition, institutional and Federal buildings. Thomas Crane Young continued the practice until 1927. At his death in 1934, the firm's research library of books on the history of architecture and 8 volumes of black & white photographs of the firm's work were donated to Ranken Technical Institute. In 1977, the collection was purchased by the Art and Architecture Library at Washington University where it awaits study for a much-deserved publication on Eames & Young.