William B. Ittner, FAIA (1864-1936)
William Butts Ittner was born in St. Louis in 1864, the first child of Anthony and Mary Butts Ittner. Anthony, who had left school at age nine to work in a lead factory and then as a bricklayer, established Ittner Bros. brick company with his brother Conrad in 1859.
In 1876, the company built an extensive new plant located south of Shenandoah on California Street near St. Francis de Sales Church and School. The firm expanded their operation to include construction; the row of Italianate houses (1884-85) at 2632-56 Shenandoah was built and owned by the Ittner Bros.
Anthony Ittner was elected to the City Council in 1867; after several terms in the State legislature, he was elected to Congress in 1877. Throughout his political career, Ittner worked to establish trade schools for American young men.
His son William graduated in 1884 with the first class granted diplomas by Washington University's Manual Training School--an exemplary institution which attracted national attention. Ittner graduated in Architecture from Cornell University, then traveled in Europe before returning to St. Louis where he married Lottie Crane Allen and entered Eames & Young's office.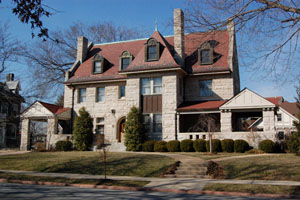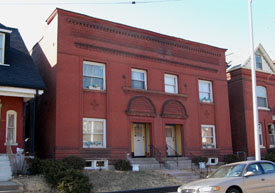 2137-39 California
From 1889 to circa 1891, he practiced alone before entering brief partnerships, first with William Foster and then with Link and Rosenheim. One of his earliest buildings which is still standing is the 1891 house at 6034 West Cabanne Place. Two Shingle Style houses from 1892 have been demolished; three Compton Heights houses are extant: 3439 Longfellow (1893), 3013 Hawthorne (1894) and 3435 Hawthorne (with Link & Rosenheim in 1895).
Perhaps the most interesting building from Ittner's early work is at 2137-39 California, just a few blocks from the Ittner family brickyards. Constructed in 1893 for an estimated $7,000, the two-story brick flats have a timeless sophistication which still appears somewhat avant-garde.
Ittner was President of the St. Louis Chapter of the American Institute of Architects from 1893-95; in 1897, he was elected to the new office of Commissioner of School Buildings for the Board of Education. Ittner served in that position until his resignation in 1910. He continued as "consulting architect" to the Board until October of 1914.
The first of Ittner's St. Louis school designs to be built was Eliot School (1898-99); the last was Bryan Mullanphy (1914-15). In addition to the fifty school buildings in St. Louis, Ittner's firm produced hundreds of school buildings in over 25 other states.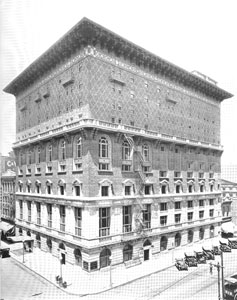 Missouri Athletic Club,
405 Washington Avenue
Other notable buildings by Ittner in St. Louis include the 1916 Missouri Athletic Club (designed with G. F. A. Brueggeman) and the 1921 Scottish Rite Cathedral. In 1922, he lectured at New York University on School Planning and was appointed by the National Education Association to the Committee on Administration of Secondary Education. Ittner was invited by President Herbert Hoover to a White House Conference in 1926, the same year that he was elected Vice President of the St. Louis Plaza Commission.
The most remarkable building from the latter part of Ittner's career is the epitome of St. Louis Art Deco--the 1929 Continental Building in Midtown.
William B. Ittner died in 1936 but his name lives on in St. Louis architecture through the firms of William B. Ittner, Inc. and Ittner & Bowersox, Inc.