William Albert Swasey FAIA (1863?-1940)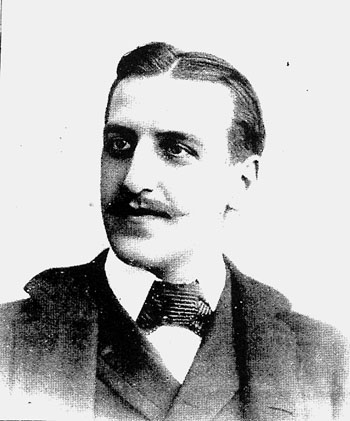 William Albert Swasey was born in Melbourne, Australia in 1863 or 1864 (contemporary sources differ) while his parents (natives of Newburyport, Massachusetts) were "temporarily sojourning abroad." A descendent of an old New England family that traced its lineage to the Revolution, young Swasey received a proper education at the Boston Latin School and a military boarding school in Paris before enrolling in the Massachusetts Institute of Technology. After graduation from MIT in 1882, he worked for C. C. Height in New York and then for both Burnham & Root and Henry Ives Cobb in Chicago. Swasey arrived in St. Louis in 1885 and quickly formed a partnership with Charles K. Ramsey, Adler & Sullivan's well-connected local partner. The firm's 1885 house for Fielding W. Oliver at 5334 Bartmer Avenue (published in the American Architect) has been demolished; no other St. Louis work by the short-lived firm has been identified other than the unbuilt Imperial Apartment House from 1885 (also published in American Architect).
Swasey opened his own office in 1887. Soon, his designs began to appear regularly in major architectural journals: a house for James Taussig, St. Louis (Inland Architect, 1889); houses on Delmar Avenue, St. Louis (American Architect, 1899); a Presbyterian Church in Memphis, Tennessee (American Architect, 1889) and a house for H. C. Dravo of Pittsburgh, Pennsylvania (Inland Architect, 1900.) On April 23, 1890 a confident Swasey wrote the following note from his downtown office at 620 Chestnut Street. To A. F. Rosenheim, Secretary of the American Institute of Architects, St. Louis: "Being desirous of becoming a member of the 'American Assoc. [sic] of Architects,' and understanding by our conversation on this subject, that it is first necessary to belong to the local chapter, I hereby make application to your chapter."
Although Swasey was surely admitted as he became a Fellow of the national organization, there is no record of his participation in the dynamic but young chapter. Perhaps he saw little to be gained from associating with his local colleagues as he had already mastered the art of self-promotion and would soon have the resources to help develop his own projects. Whatever personal wealth Swasey brought to his profession was surely enhanced by his October 1890 marriage to a socially prominent belle from Memphis, Tennessee. His bride, Irene McNeal, was the daughter of Memphis' Honorable Albert McNeal and a great granddaughter of President James K. Polk.
Swasey designed the Pastime Athletic Club (razed) opposite elite Vandeventer Place (also razed) and a number of impressive Queen Anne and Shingle Style houses before embracing, and perhaps introducing to St. Louis, the "Colonial" style with his work for General Joseph Scott Fullerton-veteran of the Union Army and a retired attorney. Fullerton's Westminster Place (the 4300 and 4400 blocks of Westminster) opened in 1892 as a private street with Swasey commissioned to design the entrance gates and all of the developer-built houses. For his own family Swasey first designed an elaborate variation on the Shingle Style at 4382 Westminster. During construction, he decided it was too large and purchased the lot next door; a more modest Colonial Revival house at 4384 Westminster completed in 1893.
In addition to fourteen designs for Fullerton between 1892 and 1895, the young architect began to attract more baronial commissions such as #13 Portland Place for William K. Bixby in 1893, #1 Westmoreland Place for J. C. Van Blarcom in 1894 and #29 Westmoreland Place for Judge Elmer B. Adams in 1895. His first office building, the Fullerton (razed)-completed in 1897 at the southwest corner of 7th and Pine-was the last commission from his most important early patron; Fullerton died in a railroad accident just before the building opened. That same year Swasey and his family moved a few blocks from Fullerton Place to his brand new Westminster Apartments at the northwest corner of McPherson and Newstead.
With General Fullerton gone, Swasey's attempts to expand his orbit are evidenced in this curious document from September of 1898:
TO THE CITIZENS OF NEW ORLEANS, LOUISIANA

We, the undersigned, take pleasure in testifying to the high professional standing of Mr. W. Albert Swasey, Architect of St. Louis, who has recently opened a Branch Office in your city for the purpose of extending his professional practice into the South and South-West. The many beautiful and important structures which he has erected in St. Louis fully illustrate his talent and ability, and we believe any architectural work intrusted [sic] to him will receive careful attention and be executed in a thoroughly competent and trustworthy manner.
The seventeen signatories (apparently collected by Swasey himself) came from the best clubs, the top banks, the biggest corporations, the federal and local judiciary and even the Mayor of St. Louis.

In early 1899, The Brickbuilder noted a Swasey commission for a ten-story office building in New Orleans. The St. Louis Builder reported in its August 1899 issue that Swasey had received a similar commission in Memphis and volunteered that: "Mr. Swasey is doing much to advance the interests of St. Louis. He is progressive, learned, has advanced thoughts and ideas on architecture, and is one of the foremost architects of the country. The Odeon and Masonic Temple, which he is now erecting on Grand Avenue, is destined to be the artistic and musical center of the Empire City of the Southwest.
St. Louis' multi-purpose Odeon/Masonic Temple at 1042 North Grand was indeed a rousing success. But even with the elaborate and unprecedented testimonial to the citizens of New Orleans plus carefully placed publicity in local journals, the New Orleans "branch office" and office building did not materialize. Neither did the Memphis project. Swasey, however, would soon have the opportunity to revisit the unbuilt Memphis highrise in the 1901 design of the Missouri Pacific Building (best known as the Buder Building) in St. Louis.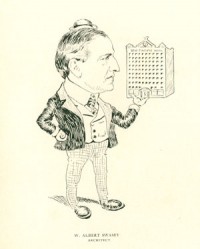 Swasey caricature,1904
Swasey's caricaturist from St. Louisans as We See 'Em circa 1904 took substantial liberties in depicting the much-heralded Missouri Pacific Building. A release placed in the May 19, 1901 St. Louis Globe-Democrat announced that "... Corwin, Spencer, the Arc Reality Company and W. Albert Swasey, the architect, have consummated their long-cherished plan of adorning Market and Seventh Streets . . . with a structure at once a beautiful thing to behold, an investment with promises of rich returns and a monument to that spirit of enterprise which is making a new St. Louis."
In December 1900, Swasey released his self-published Examples of Architectural Work by William Albert Swasey, FAIA-a sixty-three page, large-format summary of work to date. Along with ample illustrations, the "puff" publication included an extensive narrative by Swasey:
...our profession has not yet reached its proper recognition in this country, and as long as this important part of the world's progress is left open to anyone who may choose to put out his sign, it never will be. [Missouri did not license architects until the 1940s.] Choose your architect with the same care you do your doctor, and after the selection is made, take his advice and trust in his ability. When this is done, architects will be selected because their education and talents have gained for them practical experience and proper professional recognition, and the incompetent 'Builder Architect' and copyist will disappear.
Swasey's house for Wilber F. Boyle at 5035 Lindell was completed just in time for inclusion in Examples. A commission for the neighboring house to the west for James Green at 5045 Lindell came two years later in 1902. Similar in proportion, materials and stylistic vocabulary, the handsome Beaux-Arts pair displays Swasey's mastery of the refined yet monumental townhouse. Announcement of a much larger residential opportunity was announced in 1903: Swasey, as the largest investor in the Parkview Realty & Improvement Company, would design at least twenty houses in a strategically located, post-Fair subdivision. But a very different real estate venture would soon negate those plans and dramatically change his life and career.
Built for the New York-based Shubert Brothers, the opening of Swasey's $350,000 Garrick Theatre (razed) at 515 Chestnut was timed to take advantage of visitors to the 1904 World's Fair. It was also a step on the Shuberts' march to become America's largest producing and theater-owning company. As president of the company that organized and financed the Garrick, William Albert Swasey was the perfect architectural partner for the cash-poor Shubert brothers. Continuing this alliance, however, required a move to New York City.
For a short time Swasey maintained offices in both cities; when in St. Louis, he stayed at the St. Louis Club. His New York City address was 6 East 58th Street. The 1906 Book of St. Louisans stated that buildings of his design were under construction in St. Louis, Denver, Memphis, Louisville, Nashville, Chicago, Norfolk, Richmond, New Orleans, Boston, Providence and New York City. A less gracious report of Swasey's apparent good fortune appeared in the St. Louis Builder in 1909:
Albert Swasey formerly of St. Louis is firmly intrenched (sic) in a new suite of offices at 37 W. 34th Street, New York and fixed up in a palatial fashion. Mr. Swasey says he congratulates himself every day that he left Saint Louis and now has the regulation opinion of the West enjoyed by all New Yorkers who make good in the big town. Designing theatres seems to have put the Hon. Albert on Easy Street. [As quoted by Charles Savage in Private Street Architecture of St. Louis.]
Swasey remained the Shubert's principal architect until about 1913, the year he penned "A Few Essentials in Theatre Construction" for The American Architect in an issue devoted to his theaters. A house for Cushing Adams of Long Island also appeared in The American Architect in 1913; the last reference to Swasey in the Avery Index is a 1923 house at Great Neck, Long Island.
Little else is known from this period. Recent correspondence from a researcher in the Music Division of the Library of Congress reveals that Swasey's collection of architectural books was sold at auction in 1932. A one-page, type-written "Memorandum of Professional Education and Experience Architect" prepared in Washington D.C. on January 17, 1935 by W. Albert Swasey, "Architect and Structural Engineer," Great Neck, New York, may well have been an attempt to obtain government work. In addition to his self-attribution as a structural engineer, Swasey enriched the resume by noting scores of important buildings throughout the country. One of them, the much-altered and fire-damaged Odeon in St. Louis, would be condemned by the City and razed in October 1936. Somewhere along the way Swasey and his first wife Irene McNeal divorced; their son, McNeal Swasey (1891-1946) became an architect.
A chance meeting in December 1985 at the Missouri Historical Society led this writer to a son from William Albert Swasey's second marriage. By then retired and living in Florida, engineer Albert Swasey recalled strong admonitions from his father (referred to below as "WAS") to choose a profession other than architecture. A letter of December 30, 1985 to Landmarks alluded to the reason: "Unfortunately, the Great Depression, and the many years architects were without work, decimated WAS's records, drawings and papers. His many moves during that trying period kept him from keeping much of his records, etc. In brief, following 1905, WAS's career was spent mostly in New York City where he designed the Schubert Theaters, George C. Tillou's Steeplechase Amusement Park at Coney Island (now razed for condominiums) and finally the Lido Club Hotel at Lido Beach, Long Island...." According to Albert his father did manage a modest third career in Florida (perhaps Gainesville) designing Mission Revival houses.
| | |
| --- | --- |
| | |
| | |
Soon after the correspondence with Landmarks in late 1985 Albert Swasey decided to visit St. Louis. Sadly, this trip occurred just after the unforgivable loss of his father's most prominent landmark. Early in the morning on August 24, 1984, the Missouri Pacific Building had been imploded to make way for the lackluster Gateway Mall project.
(A version of this article by Carolyn Hewes Toft was first published in the November 1985 issue of Landmarks' newsletter.)