Thomas Waryng Walsh (1826-1890)
Thomas Waryng Walsh was born in Kilkenny, Ireland on July 15, 1826. The eldest son of an architect/builder of modest means, young Walsh was apprenticed to a carpenter at age thirteen. He began his architectural career at age seventeen in the Dublin office of Sir William Dean Butler. In 1846, Walsh left the British Isles for North America—working first in St. John's, Newfoundland where he superintended the construction of a new custom house and post office. From there he headed to Boston and then on to New York City. After a brief period in New York engaged with Trench & Snook on plans for Trinity Church, the Metropolitan Hotel and Niblo's Theatre, Walsh was drawn to St. Louis by reports of job opportunities in the wake of the 1849 fire.
Population in St. Louis grew from 77,860 in 1850 to 160,773 by 1860 and Walsh found plenty of work in the rapidly expanding city. He also found a wife, Isabella Betts, whose parents came from Canada to St. Louis by canoe in 1836! Although he lost the 1854 competition for the original Mercantile Library building to Robert Mitchell, commissions (now razed) from Walsh's first decade of practice included several public schools, a number of banks, the Gay Building at 121 North 2nd Street and the old Custom House at 3rd and Olive Streets. "The Old Cathedral" (SS. Peter & Paul Roman Catholic Church) at 721 State Street in Alton, Illinois designed in 1855 for a fee of $200 is extant, although a 1949 fire destroyed the original steeples.
The Bronson Hide Building (known for its last tenant) at 806-08 North First Street on Laclede's Landing is a recent and tragic loss. Designed by Walsh in 1856, the beautifully detailed commercial building was demolished in 1997 after a series of owners allowed it to deteriorate. The drawing by Pat Hays Baer (inspired by an early lithograph) documents the building's first tenant-Samuel Cranwill, wholesale grocer and commission merchant; the photo by Robert C. Pettus taken for Landmarks' 1977 guide to Laclede's Landing documents the exceptional quality of the architecture.

Walsh's much-acclaimed Lindell Hotel was also started in 1856 but was not completed until 1863. Located on Washington Avenue between 6th and 7th Streets, the $1,500,000 Venetian Italianate hotel opened its doors with a stupendous banquet and ball that attracted 3,000 guests. Promotion (including Walsh's article for the Builder, XVI, 1863) extolled the Lindell's lavish decorations, marveled at its thirty-two miles of bell wire and praised the lavish accommodations for 1,200 guests. On the evening of March 30, 1867, a fire reduced the prize of St. Louis to rubble. Pieces of the Lindell's cream-colored Grafton limestone exterior were salvaged by Henry Shaw who, along with his gardener James Gurney, used the stones to create the picturesque ruins behind the Sailboat Pond in Tower Grove Park
Lithograph of Lindell Hotel from Harper's Weekly, February 16, 1864.

Another Walsh-designed building started in the 1850s but not completed until the 1860s stood at the southwest corner of 7th and Chestnut Streets. Conceived by Washington University, the O'Fallon Polytechnic Institute was originally programmed to provide technical education for the youth of the city. Instead, the University sold the building to the School Board in 1868. The Board established a 30,000 volume library and leased meeting spaces to the Academy of Science, the Medical Society, the Institute of Architects and the Missouri Historical Society. The Institute was demolished in 1895 to make way for Eames & Young's Title Guaranty (Lincoln Trust) Building which in turn was demolished in 1983 for Gateway One.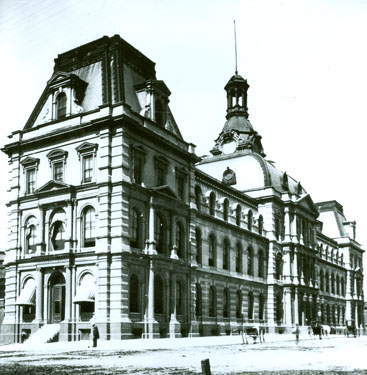 In 1860, Walsh formed a partnership with British-born James Smith. Prominent buildings from that period included revisions to Father Dold's plans for St. Alphonsus Rock Church (1118 North Grand) and the Four Courts Building at 12th and Clark Streets. Erected in 1869-70 at a cost of $500,000, the high-style, Second Empire courts building predated St. Louis' Federal Custom House and Post Office designed by Alfred B. Mullet.
By 1871, the name Edmund Jungenfeld had been added to the masthead and the firm entered what would be a tumultuous decade. Smith left the practice in 1874, the year of the final decision to build a new Post Office at what was the western edge of downtown. Local supervision of Mullett's design was given to Walsh who soon found himself in the center of charges that the "St. Louis Custom House Ring" had defrauded the Federal government. Although Walsh and three assistants were indicted by a Federal Grand Jury in 1876, only two assistants were tried. Both were acquitted; the case against Walsh and one assistant was never brought to trial. Nonetheless, President Hayes removed Walsh from the job in 1878 and appointed Henry C. Isaacs in his place. In December of that year, the American Architect (which had presumed Walsh's guilt) published a retraction stating that Walsh had been "altogether exonerated."
Meanwhile, Robert William Walsh had entered his father's office as had Frederick Widmann and the firm, relatively unscathed by the scandal, continued to receive important local commissions. Jungenfeld, Widmann and Robert Walsh left around 1881 to form their own firm (known after Jungenfeld's death in 1884 as E. Jungenfeld & Co.) Walsh, plagued with the chronic kidney trouble historically known as Bright's disease, continued to practice alone until his death in 1890.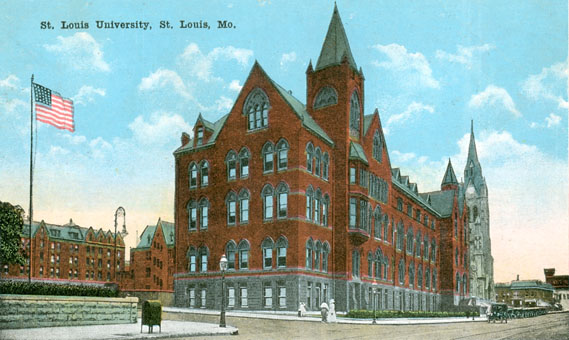 Dubourg Hall stands at center with the College Church in the background at right

Among his final projects were the Gothic Revival DuBourg Hall (now the Administration Building) for St. Louis University's new midtown campus and College Church (St. Francis Xavier) at Grand and Lindell. Postcard: DuBourg in the center with College Church at the background right. Designed in 1883 with a cornerstone laid in 1884 and tower completed in 1915, St. Francis Xavier has been identified by Mary Margaret Stiritz in St. Louis: Historic Churches & Synagogues as closely patterned after E. W. Pugin's 19th century Cathedral of St. Colman, in Cobb, Ireland.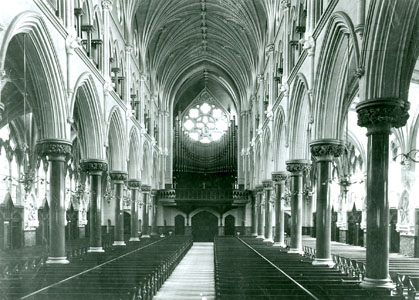 Interior view of College Church circa 1930.
The April 1890 issue of Inland Architect took note of Walsh's death: "Thomas Walsh, who had been identified with that city [St. Louis] for over forty years, died March 24 at age sixty-four. A large number of the best buildings, both public and private, were erected by him during this period and his reputation among his professional brethren was of a character that made his name spoken with respect and his death breaks a strong connecting link between old and new St. Louis architecture."
An abbreviated version of this article written by Carolyn Hewes Toft first appeared in the September/October 1989 issue of Landmarks' newsletter.