Thomas B. Annan (1839-1906)
Thomas B. Annan was born in St. Louis. After graduation from the city's only public high school, he secured an apprenticeship with architect Thomas Waryng Walsh where he remained until the Civil War broke out. Annan married Victorine Scofield in 1863; within a few years the couple moved to Selma Station--one of several small suburban communities that became part of Webster Groves in 1896.
After the war Annan entered the office of George I. Barnett (the "dean" of Missouri architects) and remained there for five years before forming a partnership with Major Francis D. Lee. (Lee was a direct descendant of the South Carolina Lees of Revolutionary fame). The young firm quickly established a formidable reputation by beating both George I. Barnett and Henry G. Isaacs in an 1871 design competition for the new St. Louis Merchants' Exchange Building at 3rd and Chestnut Streets.

The resulting building (completed for almost two million dollars in 1875, razed in the 1940s for the Gateway Arch grounds) was touted both as the country's largest trade hall and as a symbol of St. Louis' post-war unification. As Larry Lowic stated in The Architectural Heritage of St. Louis 1803-1891: "Indeed few buildings of nineteenth century St. Louis, in the excellence of design, or in significance for the city, held a greater claim to importance than the second Merchants' Exchange."
Lee & Annan went on to design many important commercial blocks, churches and houses. But the only known survivor of their partnership is the Italianate Bradford-Martin Building from about 1875, later part of the May Company Department Store at 555 Washington Avenue.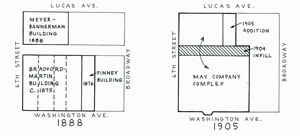 Apparently Annan set off on his own in 1876. Although Lee, Walsh and Barnett had all been invaluable mentors in developing Annan's professional skills, client/patron Samuel S. Cupples became the most important figure in his middle years. Fifteen-year-old Cupples (a transplant from Harrisburg, Pennsylvania via Cincinnati) was sent to St. Louis in 1851 to open a branch woodenware house. That fledgling enterprise grew to become the largest woodenware company in the country. Related businesses (paper bag, envelope and the massive Cupples Station distribution center) would add enormously to Cupples' wealth and influence--attributes happily evidenced in an unusual number of extant historic buildings he commissioned.
Both Cupples and Annan were leading laymen in the Methodist Episcopal Church, South. One of their first collaborations was the Cook Avenue Church (now Scruggs Memorial Christian Methodist Episcopal) at the corner of Cook and Spring Avenues. Although Cupples was not a member of the congregation, he along with his business partner Robert Brookings and dry goods magnate Richard M. Scruggs supplied most of the $68,000 for Annan's precedent-setting design from 1884.
Built of St. Louis limestone with Indiana limestone trim, Cook Methodist features auditorium-style seating alongside an exceptional example of the co-called Akron plan distinguished by an open, semi-circular Sunday school assembly space ringed by individual class rooms. The church also boasts a wonderful collection of vivid stained glass windows in floral design.
In 1884, Annan and a handful of other local practitioners (Henry G. Isaacs, Edward Jungenfeld, H. William Kirchner, Francis D. Lee and James H. McNamara) founded the first incarnation of the St. Louis Chapter of the American Institute of Architects. It faltered a few years later, but was resuscitated in 1890. A principal in the reorganization, Annan became chapter president in 1894.
In 1887, Joseph Paul Annan had become his father's partner. Although sons Alfred and Sylvester (Sylvester delineated the firm's mausoleum for Samuel S. Cupples that appeared in the October 1892 edition of Northwestern Architect) also enjoyed employment with their father for a few years, Joseph Paul made the most lasting name for himself in the profession--first in St. Louis, then in Shreveport, Louisiana where he served as AIA chapter president in 1948.
Important work in the T. B. Annan & Sons portfolio included two robust Romanesque Revival structures: the former Lambert Pharmaceutical Building of 1891 (still standing at 2101-07 Locust Street) and Boatmen's Bank Building at the northwest corner of Washington Avenue and 4th Street. Designed in 1888, the seven-story bank also housed the A. F. Shapleigh Hardware Company and the Missouri Athletic Club. In 1914, a fire in the club's space spread to become one of downtown's most deadly conflagrations.
The ill-fated Boatmen's Building had cost $350,000. The contemporaneous Samuel Cupples House at 3673 West Pine would require the amazing sum of $500,000 (at least ten million in today's dollars) before it was completed in 1890.
| | |
| --- | --- |
| | |
| Details of Cupples House stonework | |
Boasting forty-two rooms, twenty-two fireplaces and a resplendent interior including Tiffany Windows, the opulent house (occupied by family members only until 1919, was gradually enveloped by Saint Louis University which acquired the building for $50,000 from the Brotherhood of Railroad Telegraphers in 1946. Recycled again as a combined student union/classroom facility, the mansion amazingly remained essentially intact. But in the early 1970s, word spread that the university was considering demolition. Happily, intervention by Father Maurice McNamee and resulting public opinion saved it. Restoration began in 1973. Today, the magnificient Martha and Samuel Cupples House museum is a treasured part of the campus.
Financially, Samuel Cupples may have been a modern-day Medici, but his personal life was fraught with pain. His first wife Margaret died four years after their marriage; their only child died in infancy. The three children from his next marriage also died young and his second wife Martha died only four years after the great family house was completed. Samuel determined to honor her memory by endowing a new home for her favorite charity--the Methodist Orphans' Home. In 1895, Cupples enlisted Thomas B. Annan (now listed in City Directories on his own) to prepare plans for a $100,000 building at 4385 Maryland Avenue in the developing Central West End neighborhood. St. Louis: Its History and Ideals, written in 1910 by Philip Skrainka, M.D. for the American Medical Association's 61st annual meeting, included the following description:
The Methodist Orphans' Home . . . has the double advantage of being situated in a part of the city that has spacious streets and residences above the ordinary, and a building specifically erected for the purpose. After passing through the usual chapter of makeshift abodes, which seems to be the history of most charitable institutions, the present quarters were made possible through the gift of Mr. Samuel Cupples. The building from an architectural point of view betrays appreciation of proportion, unostentation, and comfort.
A Methodist orphanage until the mid 20th century, the home served for thirty years as a nursing home before it was shuttered. In 1992, the bankrupt owner donated the abandoned building to the city. Several renovation proposals fell through before Doorways, an interfaith AIDS residence program, appeared on the scene. In January of 1997, Annan's completely refurbished orphanage opened as a haven for those suffering from HIV.
Thomas B. Annan continued to be listed in City Directories until 1905, but few references to buildings after the orphanage have been discovered. It also has been impossible to determine just when and how Annan might have been associated with Washington University: James Cox in Old and New St. Louis (1894) stated that Annan had been "the instructor of the class in architecture at Washington University" for two years but gave no dates.
Annan died of liver cancer at his home in Kirkwood, Missouri on November 12, 1906. He is buried in Oak Hill Cemetery.