Theodore C. Link, FAIA (1850-1923)
The second annual meeting of the Missouri Chapter of the American Institute of Architects was held at the Mercantile Club in St. Louis on January 13, 1891. After Secretary Alfred R. Rosenheim read the minutes of the previous gathering, President Theodore C. Link began his address to the assembly as follows:
While this is our first convention as a duly organized Chapter of the American Institute of Architects, we meet as practically the same body which has now for the past six years gathered annually in the different cities of our state. We retain under our new name the same aims and objectives which called into existence the original state association, and, I am sorry to observe, we have retained also the same old slimness of attendance which has characterized many of our previous gatherings.

Now, I have often caught myself wondering why architects as a species seem to avoid meetings such as these, and the most charitable construction which I am able to find for this apparent lack of esprit de corps is the fact of a constant necessity to keep one's nose well down to the grindstone year in and year out. We want to be friendly and brotherly and even have a good time once a year; but we must keep that pencil sharpened or what would the man think who should find us out of town just on the very day he is all ready to start that $2,000 house he has been talking about for four years?
German-born Link trained in engineering first at the University of Heidelberg and then at l'Ecole Centrale in Paris before emigrating to the United States in 1870. After working for railroads in New York, Philadelphia and Texas, he came to St. Louis in 1874 as an employee of the Atlantic & Pacific Railroad. The following year he delineated Forest Park plans authored by Julius Pitzman and Max Kern—Chief Engineer and General Superintendent of Forest Park respectively. Impressed, Pitzman recommended him for the city post of Superintendent of Parks, a position Link held from 1876 (the year he married Annie Fuller of Detroit) through 1877. Next came about four years in Pittsburgh, Pennsylvania where Link published two German-language newspapers before returning to St. Louis in 1882 to open a civil engineering office. His initial St. Louis City Directory listing as an architect dates to 1886. By 1889, he was at work on the first of many buildings for Monticello Seminary (now Lewis & Clark Community College) in Godfrey, Illinois and the last-born of the Links' five children was a toddler.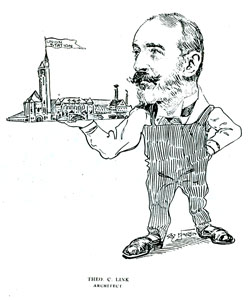 Locally, Theodore Link is best known for St. Louis' Union Station (an 1891 competition-winning design in partnership with Edward Cameron) selected for his caricature from the 1905 book entitled St. Louisans as We See 'Em. Gates for exclusive Westmoreland and Portland Places also date to 1891; for his own family, Link designed a Shingle-style house on West Cabanne Place—a semi-rural retreat near the edge of the city.
Elected to his first term as a national board member of the American Institute of Architects in 1899, Link was acknowledged as one of the most successful practitioners in the country's 4th largest city—a city just selected to host the World's Fair in 1903. Demonstrating his entrepreneurial accumen, Link bought $25,000 worth of stock in the Louisiana Purchase Exposition Company and became one of five local architects appointed to the Fair's Committee on Architecture. He was also assigned the design of the extravaganza's major Mines & Metallurgy Building as well as the Mississippi State Building—a predictable choice given his contemporaneous State Capital under construction in Jackson, Mississippi.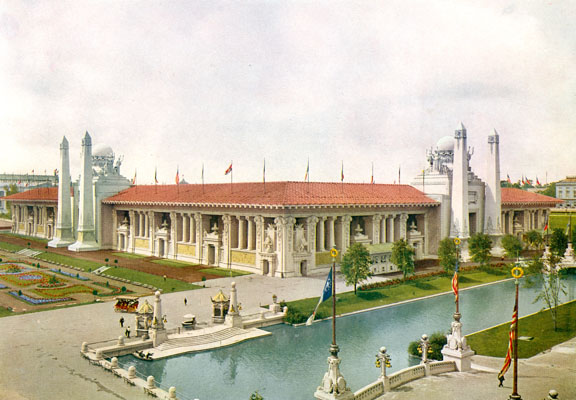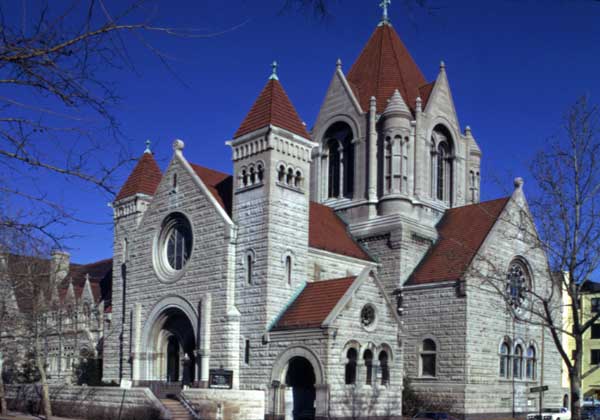 The long list of Link's extant St. Louis work boasts many houses, churches and commercial buildings for wealthy clients. Link was also selected to design the first Carnegie Library to be built in St. Louis, the Barr Branch at 1701 South Jefferson Avenue constructed in 1905. Other landmark structures include Second Presbyterian Church (1899) at 4501 Westminster Place, St. John's United Methodist Church (1901) at 5000 Washington Place, the Wednesday Club (1908) at 4500 Westminster Place, the Oscar Johnson House (1908) at 38 Portland Place, the International Shoe Company Headquarters (1909) at 1601 Washington Avenue and three houses from 1911 on Delmar in University City for a shoe-magnate family.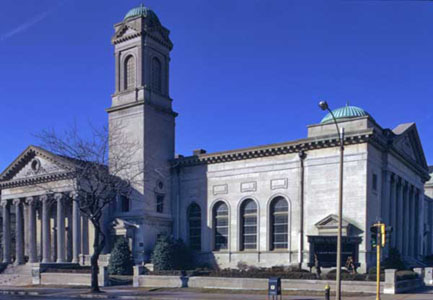 St. John's United Methodist Church Photo by Robert C. Pettus
According to City Directories, Link practiced on his own from 1882 until a brief but productive partnership with Edward Cameron from 1891-92. Then came two more years alone, followed by a 1895-96 triumvirate with Alfred R. Rosenheim and William B. Ittner which was in turn (1896-98) succeeded by Link & Rosenheim. Over a decade passed before Link would form another two-year partnership, this one in 1910 with his son Carl. In 1919, Link teamed up with architect Wilbur Tyson Trueblood to garner first a master plan and then at least nine buildings for the campus of Louisiana State University in Baton Rouge. Theodore C. Link died in Baton Rouge on November 12, 1923.
An abbreviated version of this article written by Carolyn Hewes Toft first appeared in the May/June 1984 issue of Landmarks' newsletter. Much of the new material and many of the corrections are thanks to architect/photographer Gary R. Tetley's continuing research into Link's life and work. Additional material will be posted from time to time. June 2007.