John Ludwig Wees FAIA (1861-1942)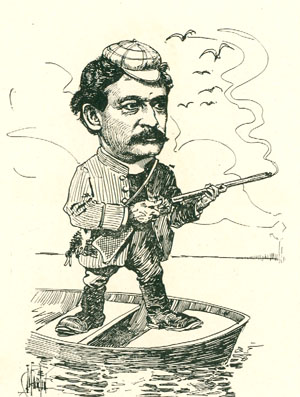 Born in Alsace-Lorraine in 1861 and educated in Heidelberg, Germany, John Ludwig Wees spent a year studying architecture in Paris before emigrating to the United States in 1879 at age nineteen. Wees initially worked in a sewing machine factory in Bridgeport, Connecticut while studying art at night school before he found a drafting job with a local architectural firm. After professional experience in Bridgeport and New York City, he arrived in St. Louis around 1882 and became a draftsman for August M. Beinke--a former carpenter who had opened an architectural office in 1873. Wees married Elizabeth Geisler of St. Louis in 1887; the first of four children was born the following year. By the mid 1890s, Wees' parents had left Germany and moved in with the growing young family at 1541 Marcus Avenue. Meanwhile, Wees had become head draftsman and then partner (1890-94) in Beinke's firm. Although Wees' caricature in St. Louisans as We See 'Em (circa 1904) portrayed him as a duck hunter (left), no other record substantiates that hobby.

Known works designed by Beinke & Wees include numerous houses, the West End Hotel at Vandeventer and West Belle (razed), the grandstand for Sportsman's Park (razed), the Surgical & Gynecological Hospital at 410 N. Jefferson (also razed) and the former Beethoven Conservatory-still standing at the northwest corner of 23rd and Lucas Streets. Designed in 1891, with additions for Otis Elevator in 1929 and 1949, the Renaissance Revival landmark (later home to Cordes Printing) was purchased in 2000 by Bruton/Stroube Studios which adapted the resilient old conservatory into a commercial photography studio.
Beinke retired in 1894, the year Wees became a member of the St. Louis Chapter of the American Institute of Architects. By the turn of the century, Wees' portfolio on his own already included residential work (the most prominent being the $75,000 Dozier House at #10 Westmoreland Place), mercantile and industrial buildings, a hospital and a business college.
| | |
| --- | --- |
| | |
| #10 Westmoreland Place Photos, Robert C. Pettus | |

Early 20th century work was even more diversified: the loft building at 1224-26 Washington Avenue, apartments at the southwest corner of Lindell and Boyle, a temporary hotel for the World's Fair, a saloon for the Home Brewing Co. at 300 DeBaliviere, a hospital at 4125 West Belle, the house at 3127 Longfellow in Compton Heights and the B'nai El Temple (now Temple Apartments) at Spring and Flad Avenues in the Shaw neighborhood.


Although residential commissions remained an important part of his practice (4626 Maryland, 5032 McPherson, 5239 Westminster, 4487 Westminster, 3558 Crittenden, 3225 Longfellow, #30 Brentmoor Park, etc.), it was a 1902 commission from wholesale grocer Henry B. Krenning that led to Wees' most innovative St. Louis work: the 1911-12 Dorris Motor Car factory and showroom at 4100 Laclede.
(Krenning was President and the major shareholder in the Dorris venture.) Wees' Dorris Building is the earliest known St. Louis example of mushroom capital/paneled slab construction, the most advanced reinforced concrete technology of the day and one eminently suited for the new automobile industry. Far more exuberant was Wees' Mannerist "Packard Palace" showroom (2201 Locust) from 1913. Both showrooms have recently been adapted to residential use.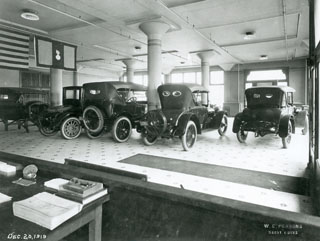 One of Wees' last St. Louis projects was an elaborate plan for the riverfront. Published in November of 1915 by the St. Louis Globe-Democrat, the plan (prepared for the River Front Docks and Plaza Association) featured three triumphal arches, with the center one topped by an equestrian statue. The organization also extolled the importance of river traffic to the local economy and urged the construction of a plaza on Market Street from the river to Twelfth Street-surely one of the earliest proposals to introduce a formal east/west mall in downtown.

Wees left St. Louis in 1916 for Paris, Texas where a fire had devastated the downtown. Among buildings destroyed were those owned by Rufus Scott, a client for whom Wees had already designed a house. In addition to more work for Scott in Paris, Wees won competitions for the American National Bank, the Paris City Hall and Fire Station. By 1920, he had closed his St. Louis office. Later Wees designs for Paris included the coliseum, fountains, a World War I monument and the public library. In 1936, he enrolled in the CCC camp near Tyler, Texas where he served as a foreman and taught art for almost two years.
A Paris News feature article from 1938 noted that seventy-seven-year-old Wees insisted on supervising all construction ". . . as he wants the work done right and no substitutions used. Wees considers no job too large or too small as he can plan anything from a dog house to a palace." Wees died in January 1942; survivors included his wife and children who had chosen to remain in St. Louis. According to a 1977 letter to Landmarks Association from a grandson, original linen drawings of Wees' St. Louis work "were washed until white and suitable for making pillowcases, etc. during the early 30s."
An abbreviated version of this article by Carolyn Hewes Toft appeared first in Landmarks' January/February 1986 newsletter.