Harry G. Clymer, AIA (1873-1958)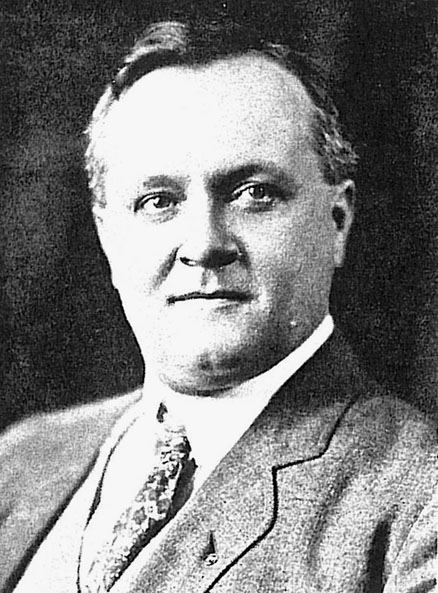 Harry G. Clymer in 1916, from
Portraits of Prominent St. Louisans
In 1921, a biographer wrote: "Not by leaps and bounds, but by an orderly progression, Harry G. Clymer has reached a position as one of the foremost architects of St. Louis."
Born in Polo, Illinois in 1873, Clymer was brought to St. Louis by his Pennsylvania-born parents in 1875. His father found employment with the Mound City Preserving Company; by 1885, he was the company manager. Harry's public school education was cut short at age fourteen when his father's death forced him into the business world.
Clymer had shown an early aptitude for drawing and determined at age sixteen that architecture would be his profession. He approached Alfred J. Rosenheim who employed him first as a clerk and then as draftsman.
Clymer moved on to William B. Ittner's office before taking a position as head draftsman for August M. Beinke at a salary of $150 a month. On August 18, 1901, the St. Louis Globe-Democrat carried an illustrated story about the firm's design for a French Renaissance house for Joseph W. Moon to be built at #24 Washington Terrace. The same issue also contained a report of Beinke's death. The building permit obtained by Clymer in late November that year for Moon's $25,000 house was followed in December by a permit for a $4,000 stable. (In today's dollars the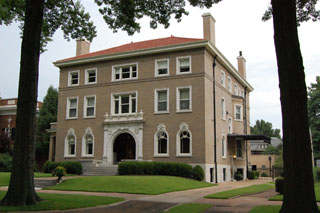 #24 Washington Terrace, 1901
house for Moon, President of the Jos. M. Moon Buggy Co. and Vice President of the Olive Street Bank, would cost well over $1 million.)
Married to Lottie Long in 1899, Clymer designed a house for his own family in 1904 which still stands west of Kingshighway at 5228 Maple. Known commissions from 1905 indicate that Clymer had established a diversified practice: a house at 3080 Hawthorne in Compton Heights, a large stable for the Union Dairy Co., a factory on St. Louis Avenue for the Peters Shoe Co., a downtown loft building on 11th Street between Lucas and Washington Avenue and a large addition to Moon's Buggy Co. He had also attracted a new client, Christian Muckermann, president of Polar Wave Ice and Coal Co., for whom Clymer designed a substantial house on Salisbury and the first of many buildings for Polar Wave.
Clymer designed the house at #17 Washington Terrace for Charles F. Gauss before forming a partnership with Francis Drischler in 1908. Drischler, born in New York in 1873, had studied and traveled in Belgium,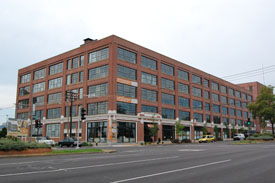 Ford Motor Company (now the West End Lofts), 1914
Germany and France before serving in the Spanish American War. He came to St. Louis in 1901 and worked two and one-half years as a draftsman for Eames & Young before opening his own office and becoming a member of the St. Louis Chapter of the American Institute of Architects in 1904.
One of the partnership's first commissions was the 1908 house at #44 Kingsbury Place for the German G. Powell family. Between 1909 and 1912, the firm designed five houses in Parkview, #22 Kingsbury Place for Mr. & Mrs. Henry Pauk, the building for the Ford Motor Company on Laclede, the Princess Theatre and Studio Building in Midtown (demolished for a Wendy's), the State Normal School in Springfield, Missouri and the Schubert Theatre in Denver, Colorado. The partnership was dissolved in 1916, the year Clymer applied for membership in the St. Louis Chapter of the American Institute of Architects.
Clymer continued to practice on his own in St. Louis until he moved to Michigan in the early 1930s. An obituary carried in the April 1958 Michigan Society of Architects Monthly Bulletin reported his death in Jackson, Mississippi. No mention was made of any Michigan work.