Frederick C. Bonsack, AIA (1859-1917)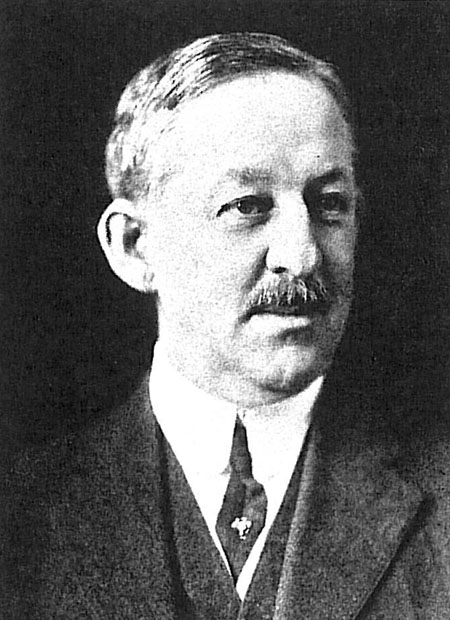 Frederick C. Bonsack in 1916, from
Portraits of Prominent St. Louisans.
Frederick Charles Bonsack was born in St. Louis County in 1859. His father, also Frederick Charles, and his mother Catherine (Meiser) Bonsack were both of German descent. In 1863, the family moved into the city of St. Louis where Frederick Sr. was the proprietor of a thriving lumber business.
At age sixteen, Frederick Jr. left high school to work for eighteen months in the office of architect Jerome B. Legg. His father then placed his son at the Phoenix Planing Mill for practical experience after which the younger Bonsack worked as a carpenter's apprentice and for contractors while continuing his architectural studies at night.
At age twenty-one, Bonsack established his own building and contracting firm. In 1889, he received the important contract to build Shepley, Rutan & Coolidge's new Telephone Company Building on Olive Street. That same year he married Helen Niedringhaus whose father was President of the St. Louis Stamping Company (later National Enamelling and Stamping Company) and a member of the 51st Congress. Niedringhaus' company had achieved "remarkable results" with the perfection of graniteware cookware and constructed an extensive rolling mill in addition to their stamping factory on Second, Main and Flora Street. The Telephone Building, opened in 1891, was highly praised for Bonsack's total control of the project, a "modern feature of construction which does away with the bother of making estimates with a dozen mechanics or so."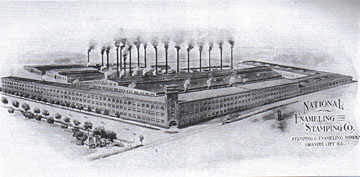 Bonsack dropped construction for architecture in 1892. Two years later, factories, a high school and many residences of his design were under construction in the new town of Granite City, Illinois, founded as a company town by the relocating and expanding Niedringhaus firm.
In 1895, Bonsack designed for his own family a house at 5257 Washington Avenue. An article from 1898 credits him with the design of a "great many stores and factories in the city as well as houses on many of the "beautiful West End Streets." In 1899, he designed the Joseph D. and Mary Bascom House at #45 Westmoreland (now demolished and replaced) and a house (also demolished) at the northeast corner of Lindell and Taylor for former Lieutenant Governor Stanard.
| | |
| --- | --- |
| | |
| | Pierce Building, 1906 |
In 1901, Bonsack received the commission for a new Lutheran church at Jefferson and Armand. His father-in-law was a member of the Board of Directors of the 1904 World's Fair for which Bonsack designed a minor building, the Persian Pavilion.
In 1905, he designed a house next door to his own residence on Washington for J. S. Kimbrough. The three-story building at 3621 Olive, today just west of the Continental Building, was designed in 1906. (Said to have been the first large St. Louis building of concrete construction, the now-demolished Gothic Revival Wagoner Undertaking Co. Building was faced with Indiana limestone.) Other commissions from 1906 include the Glen Echo Country Club on Natural Bridge Road, a house for Charles P. O'Fallon on the summit of Solomon's Hill on Manchester, houses in Pine Lawn and Kirkwood, #23 Kingsbury Place and the sixteen-story Pierce Building opposite the Planters Hotel in downtown. Later remuddled and recently re-skinned, the Pierce Building skeleton is part of the Adam's Mark Hotel.
Bonsack's American Hotel and Theatre built for Louis A. Cella in 1907 is now the site of the disputed expansion of Keiner Plaza. Another commercial building from 1907 is a surface parking lot at the corner of 8th and Pine. The cornerstone for the Bonsack's Coliseum was laid in 1908. Seating more than 10,000 people, the Coliseum at Jefferson and Washington was host to Veiled Prophet Balls, sporting events and the 1910 Democratic National Convention. The building was razed in 1953, the year Bonsack's widow died at age 85.
Bonsack's later residential commissions have fared better: 6232 McPherson (1910), #18 Kingsbury Place (1911), 6300 Waterman (1913) and #35 Brentmoor (1914). His son, also named Frederick Charles, worked for his father's firm before service in the Navy in WW I. Bonsack died in 1917. His son formed a partnership with Harvey J. Pearce (formerly a draftsman with Eames & Young and Harry Hohenschild) in 1921. After the death of Frederick C. Bonsack III in 1953, the firm became Pearce & Pearce and then Pearce Corporation.
| | |
| --- | --- |
| | |
| The Coliseum, 1908 | |