Endicott-Johnson Shoe Distribution Plant Listed in National Register of Historic Places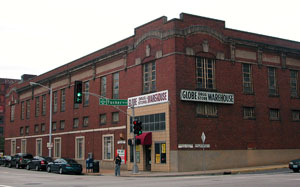 Endicott-Johnson's St. Louis Shoe Distribution Plant
October 22, 2007
Through the efforts of Landmarks Association of St. Louis, the Endicott-Johnson Shoe Distribution Plant at 1132 Spruce Street in St. Louis, Missouri was just listed in the National Register of Historic Places. The building was nominated under criterion A in the category of industry, and is locally significant as an important component of the historic landscape of the St. Louis shoe industry. This landscape is critically linked to the economic development of St. Louis, and is recognized by a growing list of shoe-related National Register properties in the city.
The Endicott-Johnson Distribution Plant is actually composed of two interconnected buildings, which were constructed in 1915 and 1923-24 respectively. The former building was designed by Frederick C. Bonsack and was originally constructed on behalf of the Columbia Transfer Company. This building was later incorporated into a larger facility, which was designed by the architectural partnership of Nolte & Nauman to house a distribution plant and sales room for the Endicott-Johnson Shoe Company (E-J). Endicott-Johnson was a major player in the American shoe business throughout the first half of the 20th century. Throughout much of that time they battled with St. Louis-based International Shoe and Brown Shoe for dominance of the U.S. market.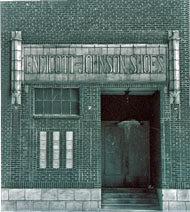 The company opened its first modest office in St. Louis in 1907, but rapid growth among its competitors necessitated the implementation of an increasingly aggressive strategy; in 1925, they opened the major distribution plant on Spruce Street. This plant can be seen as a reaction to both the threat that E-J felt from the St. Louis companies, and to the opportunity it saw in the burgeoning Western markets. Significantly, it is the only facility the company ever constructed outside of its traditional home in New York and Pennsylvania, and was built specifically to contest St. Louis' attempted domination of the markets of the Midwest, West, and Upper South. As such, the building is not only important to the history of St. Louis, but is also representative of a crucial chapter in the history of this remarkable company. The period of significance (1925-1957) spans Endicott-Johnson's initial occupation of the buildings through the arbitrary 50 year cut-off.
---