Jerome Bibb Legg (1838-1915)
Born in Schuyler County, Illinois in 1838 or 1839, Jerome Bibb Legg came to St. Louis in 1864 to attend Jones Commercial College--a decision that hewed his uncommon entrepreneurial skills. Equally important to his subsequent architectural career was time spent as a clerk and bookkeeper for George I. Barnett, the most respected practitioner in town, who encouraged Legg to devote his spare time to studying architecture. After a year working in the building trades, Legg was given the responsibility of superintending the 1868-69 construction of Thomas Dixon's Centenary United Methodist Episcopal Church at 16th and Pine Streets.
The promotional skills that would serve him well were first evident with his Home for Everybody, published in 1876 with an edition of 6,000 copies mailed to prospective clients in over a dozen states. By 1878, Legg's profile in Dacus and Buel's Tour of St. Louis reported a remarkable number of St. Louis designs to his credit including the Manual Training School for Washington University, St. Paul's Church, Mount Calvary Church, Samuel Cupples' paper bag factory, D. Crawford & Co.'s Building, the Anzeiger Building and numerous houses as well as commissions in Illinois and out-state Missouri. Business had been profitable enough for Legg to associate with Charles C. Helmers, "who [according to Dacus and Buel] for the last four years was an earnest student of architecture in Europe."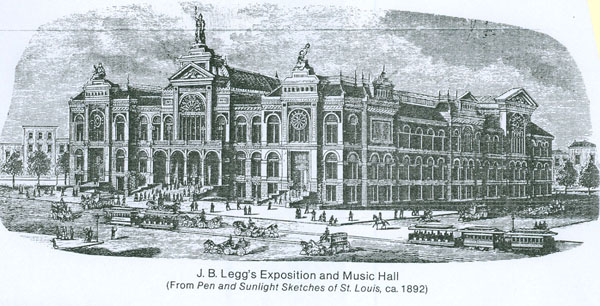 In 1884, Legg was admitted to membership in the American Institute of Architects. That same year saw the construction of his most important St. Louis building to date: the Exposition and Music Hall (located where Missouri Park had been, now the site of the Central Library by Cass Gilbert). Measuring 502 x 332 and built at a cost $750,000, the hall was heralded as one of largest and grandest in the nation.
Legg's biography in The Industries of St. Louis from 1887 opened with a sweeping general tribute to his profession:
Upon no other profession does the present and future reputation of a city depend to such a degree as upon that of the architects. We base our estimate of past ages and peoples largely upon the structures they have left as indices of their place in the history of civilization, and our judgment of the cities of today is influenced, to a considerable extent, by the edifices which indicate the progress of architectural taste.
By 1887, the "progress of architectural taste" in St. Louis domestic architecture was in rapid transition. Several surviving examples by Legg for individual clients serve as striking illustrations of that shift: the first is the restrained stone-front, Italianate townhouse at 3724 Olive Street designed in 1886 for William Cuthbert Jones; the second from approximately the same date is a bold Queen Anne extravaganza at 3514 Delmar designed for Lucius L. Culver. Now home to Portfolio Gallery & Educational Center, the Culver House interior contains a potpourri of exceptional finishes. Another Queen Anne survivor, this one designed in 1891 for C. A. Wickham, is located at the northeast corner of Taylor and McPherson
| | | |
| --- | --- | --- |
| Lucius L. Culver house | William Cuthbert Jones House | C.A. Wickham House |
Legg, like most of his contemporaries, also designed speculative houses for developers. Six houses each costing $4,300 were designed in 1892 for the 4400 block of Laclede; four, more expensive houses ($8,000 to $10,000) from 1894 and 1895 on the 4300 and 4400 blocks of West Pine were drawn up for a different developer.
By the turn of the century, Legg's new police stables had opened in Forest Park, his Bofinger Memorial Chapel had been dedicated at Christ Church Cathedral and the Oriel Building at the southeast corner of 6th and Locust Streets remained one of the most successful office buildings in downtown. (Legg held a 99-year lease on the land and developed the building in 1889 in partnership with Col. John O'Day.) With a practice extending into twelve states, Legg managed to maintain four out-of-state branch offices while acquiring financial interests in an assortment of real estate development and mining/milling companies. He was also editor of the Building Trades Journal (which featured many of his buildings) and wrote the introductory section on architecture in Commercial and Architectural St. Louis.
By the turn of the century, his interests had diverged from those of the aspiring young Beaux-Arts-trained architects running the local AIA chapter. A letter of resignation was written just as the 4th edition of Home for Everybody went to press:
September 26, 1899

I regret to sever my connection with the St. Louis "Chapter of the American Institute of Architects," as I have taken a great deal of pleasure in the association of the Chapter; but the increased dues are in excess of what the Chapter can repay in pleasures of association, or profits in consultation, considering the few times in which we have the pleasure of meeting as Chapter members, and therefore, I have settled my account to date with the Treasurer and hereby tender my resignation as a member of the St. Louis Chapter of the American Institute of Architects," with my best wishes for the future prosperity and usefulness of the Chapter as an organization, and each and every member individually.

Very respectfully tendered, WB Legg.
Although a two-year partnership with Charles S. Holloway ending in 1904 produced no as-yet-identified work, Legg on his own is credited with several buildings for Southeast Missouri State University in Cape Girardeau including Academic Hall completed in 1905.
Surprisingly little is known about Legg's personal life. Even though he was profiled in an unusually large number of local publications over a very long span of time, Legg did not merit an entry in the 1906 Book of St. Louisans--long the best source of reliable information about family, education, clubs etc. The last known St. Louis commission was a resplendent eighteen-room, $65,000 house at #33 Washington Terrace (razed) for Dr. Pinckney French announced in the St. Louis Globe-Democrat in May, 1906. His last listing under "Architects" in the St. Louis City Directories was in 1908.
Enumerators from the 1910 Census found Jerome B. Legg and his wife in Pomona, California, retired and apparently living off his assets. He died on June 17, 1915 in San Bernardino, California.
An abbreviated version of this article written by Carolyn Hewes Toft first appeared in the July/August 1989 issue of Landmarks' newsletter.