Demo of Deaconess: The Results of the March Preservation Board Meeting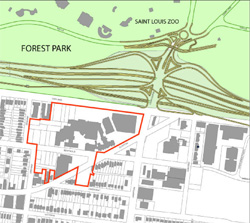 Deaconess site out lined in red
The St. Louis Preservation Board meet yesterday afternoon with eight applications for demolition permits and recommendations for three proposed Preservation Review Districts on the agenda.
The eight demolition permits pertained to the Forest Park Hospital, formerly Deaconess Hospital, complex in Dogtown. The St. Louis Zoo has been exploring the purchase of the 13 acre site for potential expansion. The zoo stated they would retain the Medical Office (1982), the seven story parking garage (1975) and a small maintenance building.
Over eight decades the site was developed and contains several notable buildings including the Main Hospital (1929), Gerhold Hall School of Nursing (1946) and a small chapel (1956). During the 1980's, the Main Hospital received a new architectural identity composed of horizontal bands of windows and vertical piers. The new façade obscured the historic exterior, significantly reducing the hospital's historic integrity. Based on the alterations to the hospital, the central component of the site, the complex is not considered to be a High Merit property. While some of the individual buildings are contributing they are inextricably associated with the hospital and larger entity in their potential historic significance. Therefore they cannot be individually listed.
Scott Ogilvie, Alderman of the 24th Ward, asked the board and zoo for the consideration of adaptive reuse of Gerhold Hall. The board and zoo agreed to explore reuse but it was not a requirement. At the end of deliberations, all eight demolition permits were upheld.
After the motion had passed, the board considered the recommendation of Preservation Review Districts in the 14th, 18th and 24th Wards. The entire 14th Ward, which includes the Bevo Mill, South Hampton and Tower Grove South neighborhoods, became a review district at the request of Alderwoman Carol Howard. Portions of the 18th and 22nd Ward were placed under preservation review. The proposed boundaries of the review district in the 18th Ward are Spring, Olive, Newstead and Lindell, which includes the AAA Building. The 22nd Ward review boundaries, requested by Alderman Jeffrey Boyd, included the north and south sides of MLK between Irving and Union.