2013 Preservation Week Schedule
If you haven't stopped by yet, please come and see the new exhibit that Landmarks' is hosting at Architecture St. Louis. The exhibit was created in conjunction with the Campbell House Museum with support from the Missouri Humanities Council.
Exhibit: Lucas Place, Lost Neighborhood of St. Louis' Gilded Age. Architecture St. Louis (911 Washington Avenue, St. Louis). Monday through Friday, 9:00-5:00 through August.
Exhibit: A Retrospective Tribute to the Belleville Area Architecture of Charles E. King. Governor French Academy Art Gallery, 219 W. Main, Belleville, May 3 through May 31. Opening reception will be May 3, 5-8pm. For more information visit bellevillehistoricalsociety.org or call Larry Betz (618)-531-7753
Tour: Mid-Century Homes by Architect Charles E. King. May 11, 1:00-5:15.
The Belleville Historical Society is hosting this tour of seven Belleville homes designed by Mid-Century Modern architect Charles E. King, whose career in Belleville spanned the period 1947-1961. Tickets are $15 and may be purchased at any of the homes on the designated tour (details are still being finalized at the time of printing). For more information please visit bellevillehistoricalsociety.org or facebook.com/bellevillehistoricalsociety or call Larry Betz at (618) 531-7753.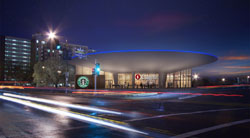 Tour: Former Del Taco Flying Saucer and Teamster's Plaza, 374 S. Grand. May 14, 5:15-6:30
Completed in 1967 and 1966 respectively and designed by firm of Schwartz and Van Hoefen, these buildings are a component of the larger Council Plaza Housing Complex that was built by the Teamsters Union in an effort to address the housing needs of St. Louis' elderly population and to create an anchor in what was then the recently cleared Mill Creek neighborhood. Listed in the National Register of Historic Places for its exceptional significance in the areas of Social History and Community Planning and Development, the complex was a critically acclaimed example of the "total community" model for public housing. The "Flying Saucer" (designed as a gas station for the complex by project architect Richard Henmi) recently gained national attention when it moved from Landmarks Association's Most Endangered list into the running for a Most Enhanced Award after an outpouring of support for preservation.vCome see what has been done with these much-loved space-age buildings to get them ready for the 21st century.
Reservations Required. Tickets, $15.00 for members, $20.00 for non-members. Call Landmarks Association (314)-421-6474 or email Andrew Weil at .(JavaScript must be enabled to view this email address)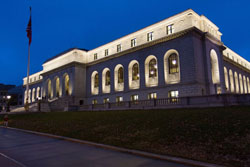 Most Enhanced Awards, Wednesday May 15. 6:00-8:30.
This year's Most Enhanced Award ceremony will be held at the beautiful new theater in the St. Louis Central Public Library downtown (1301 Olive Street). Come see the newly rehabilitated, restored, and reconfigured library in all its glory and help us to honor the best preservation and adaptive-reuse projects of the last year.
Tickets $20.00 for members, $25.00 for non-members. Includes passed appetizers and an open bar prior to the awards with catering by the award-winning local restaurant, Herbie's Vintage 72.
Sponsored by Mangrove Redevelopment, UIC, and Stl-Style. Seating is limited, call Landmarks Association (314)-421-6474 or email Andrew Weil at .(JavaScript must be enabled to view this email address) for reservations (required).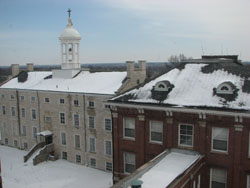 Former St. Stanislaus Seminary and Museum, Saturday, May 18. 1:00-4:00
The St. Stanislaus Seminary was founded by the Jesuits in 1823 and was occupied by the order until 1971. The property eventually came to encompass nearly 1,000 acres and at allowed the Jesuits who lived there to be largely self-sufficient. The buildings were built of stone that was quarried from the bluffs and bricks that were fired on site. The land supported extensive farming operations in addition to an apiary and vineyard. We will begin this unique tour at the museum, which was once housed on site but now occupies a beautiful ante-bellum farm house and surrounding grounds in north St. Louis County (3030 Charbonier Road, 63031). From there we will caravan over to the nearby seminary (now Urshan College) and tour the grounds as well as the chapel and the 1840 "Rock House." Please join us for a rare chance to visit this fascinating site which is usually not accessible to the public.
Reservations Required. Tickets $30.00 for members, $40.00 for non-members. Call Landmarks Association (314)-421-6474 or email Andrew Weil at .(JavaScript must be enabled to view this email address)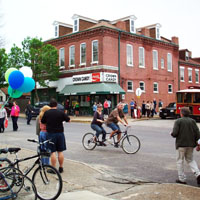 Old North St. Louis House and Community Tour. Saturday, May 18. 10:00- 4:00.
Tickets and tour booklets available at corner of N. 14th Street and St. Louis Avenue.
Cost: $10 in advance or $12 on the day of the tour. Advance tickets are available online (http://onsl.org/house-and-community-tour/) and by contacting the ONSLRG office, (314)-241-5031, or in person at 2700 N. 14th Street.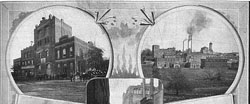 Tour: South Side Brewing Heritage reprise in conjunction with Cameron Collins, author of the "Distilled History" blog. Sunday, May 19. 1:00-5:00.
Tour departs from the Compton Hill Water Tower Park (NE Corner of Russell and S. Grand). Due to popular demand, we have decided to reprise the South Side Brewing Heritage Tour, last offered in 2010. The tour will travel past a wide array of brewing-related sites in St. Louis City including remaining brewery buildings, the sites of former breweries, the homes of beer barons, and former "tied houses" or brewery-owned/operated taverns. The tour includes beer from St. Louis' microbreweries on the bus, snacks, and stops at several brewery-related buildings including the stock house and cellars of the former Cherokee Brewery. Additional bar tabs are not included. Participants must be 21 or older.
Reservations Required. Tickets, $45.00 for members, $55.00 for non-members. Call Landmarks Association (314)-421-6474 or email Andrew Weil at .(JavaScript must be enabled to view this email address)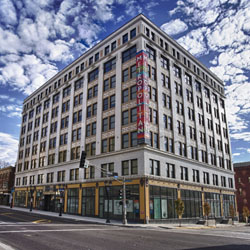 Tour: Metropolitan Building in Grand Center. Monday, May 20.6:00- 7:15.
Parking available on street or on numerous nearby lots.
Located at 500 North Grand, the Metropolitan Building was constructed in 1907 and designed by the noted St. Louis firm of Mauran, Russell & Garden. Located at the high-profile corner of Grand and Olive, the building once primarily housed doctor's offices and a large pharmacy. The eight story building with white glazed brick exterior and gold accents had, until its recent renovation, been sitting vacant and boarded for many years. The renovation of this building into a mix of artist's lofts and on-site studios represents another important step forward for Grand Center and the flourishing arts scene in Midtown. Come tour this fantastic rehabilitation with project architect Paul Hohmann and see the transformative power of adaptive reuse.
Reservations Required. Tickets, $15.00 for members, $20.00 for non-members. Call Landmarks Association (314)-421-6474 or email Andrew Weil at .(JavaScript must be enabled to view this email address)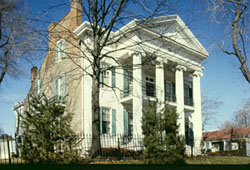 Chatillon-DeMenil House Book Sale May 17-20.
The Chatillon-DeMenil House Foundation's 7th annual Used Book Sale will be held at the Chatillon-DeMenil House (3352 DeMenil Place) this year. The event begins on May 17 with a Friday night preview party, 7:00 PM ($10 at the door); Saturday general book sale from 10:00-4:00; Sunday bag sale from 12:00 - 4:00 pm. This sale never fails to delight, with thousands of books priced at 50 cents to one dollar, and an interesting selection of antique and contemporary used books.
For more information call (314) 771-5828 or visit www.demenil.org